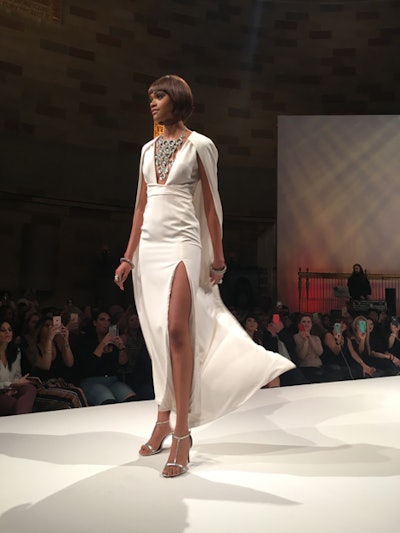 Earlier this week at Hair Play International at NYC's Gotham Hall over 500 lucky guests got to experience a night filled with top-notch education and uber-creative inspiration from the Goldwell and KMS teams. The evening started off with a bang: Models took to the runway rocking styles that were a tribute to some of our late, great music icons who pushed boundaries not only with their music but also with their styles and lifestyles. Think: Janis Joplin, Kurt Kobain, Amy Winehouse, Donna Summer, Whitney Houston, David Bowie, George Michael and Prince.
The fun didn't stop there. Next the Goldwell color team of Rebecca Hiele, Nick Pagano and Lindie Blackwell showcased their Spring/Summer Trend Collection, and it wowed. From a cool blonde melded with orchid and dark salmon hues; to a warm blonde that built in macro and micro waves of color with seaglass, antique rose and periwinkle; to an explosion of a subtropical color created by mixing crimson, Indian red and lava; to a dusk brown tinted with olive and indigo shades, the team demonstrated ways to use color to create nuances, detailing and variation. "This is our ready-to-wear collection," says Hiele. "It's about getting inspiration from fashion and runway shows and then bringing it back to the client. They come to us with inspiration in pictures but we should have [colors] we can introduce to them and have the verbiage to describe those shades."
Goldwell's Hiele and Pagano then took color and shape to the next level with the introduction of their Couture Collection. Think: a powdery blue, rust and violet; a regal red; a bright violet; and a blonde spiked with seaglass and antique rose. "It's about changing up the mood of how you feel about color and what the clients' expectations are," says Hiele. For this collection, the duo focused on things such as strategic placement; color melting; geometric shapes such as round, freeform and triangles that complemented its color counterpart; creating smooth and jagged textures on the same canvas; and filtering and veiling. "It's about being passionate about what we love and creating that design and bringing it to life and back to the salon," says Hiele.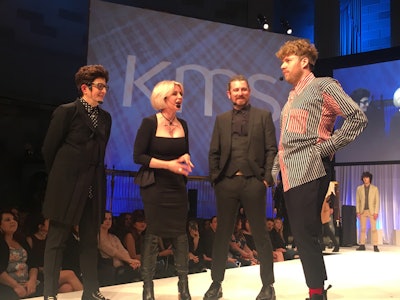 Next, the Goldwell cutting team of Jay Mahmood and Shawna Parvin showcased some of the cuts and techniques that are taught in Goldwell's Master Stylist Program. The program consists of four parts: Essential Shapes, Contemporary Shapes, Advanced Shapes and Collection Shapes. "The Essential Shapes allows you to create shapes that are so individualized and perfect your client will walk out knowing they have a custom haircut," says Parvin, who when spritzing her model noted the classes also cover grooming and how to control the hair. "When you leave the class you'll feel better [about your work]. You grow and learn so we can all be better together." Daniel Rubin, Global Color Zoom Gold Winner 2016, colored the hair for this set of models and after giving coloring tips, explained how color fits in with the Master Stylist Program: "With Master Stylist the overall objective when creating the color is not to overpower the shapes but to let the shapes do the talking and let the color be the complement to the shapes."
To conclude the evening, the KMS team of Simon Miller, Sonna Brado, Lori Panarello and Sam Burnett took to the stage to showcase their newest collection. "Tonight we have an array of Street Styles, [which are] salon friendly styles, and High Styles, [which are] high fashion styles … that push boundaries," says Panarello. "KMS is now a brand that sets trends. What you see tonight is what we put on the runways this season." From horizontal waves to pompadours to pixies and major curls the styles didn't disappoint. The team also demonstrated some of the looks using variety of techniques such as netting, creasing and curling, and products such as their newest working spray and sea salt spray. "[We're showing how to] utilize the products in a nonconventional way to create shape," says Miller. "Structure will always be there so it's how can we put a new spin on it."

[Images by Molly Church]