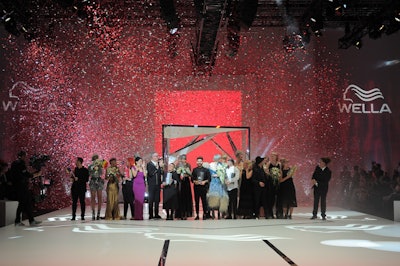 Coty Professional Beauty has announced their partnership with Salon International, the UK's largest professional exhibition for the hairdressing. Salon International will provide an exclusive platform for Wella's International Trend Vision Awards 2017 as well as a star-studded line up of shows and features from all Coty Professional Beauty brands on Saturday, October 14th.
Wella's International Trend Vision Awards finalists from all over the world will finalize their model preparation on the floor of the Salon International exhibition, with the final competition and its iconic Walk of Fame, Parade of Nations and Awards celebration taking place in the Salon Live theatre, reserved exclusively for Coty Professional Beauty guests.
Wella is set to be the headline sponsor for the 35th annual Alternative Hair Show. Highlighting creativity, this year's show will include a variety of hairdressing talent set to hit the stage and showcase their theatrical interpretations of this year's theme: Utopia.
"We are delighted and proud to partner with  two institutions of British hairdressing and have exciting plans in place behind them, seeing all our brands – Wella, ghd and OPI – come to life. These partnerships are a great example of Coty Professional Beauty's commitment to celebrate and elevate our unique industry of passionate and extremely talented individuals", said Sylvie Moreau, President Coty Professional Beauty.
Coty Professional Beauty division will also exhibit at the Salon International exhibition October 14th–16th, 2017