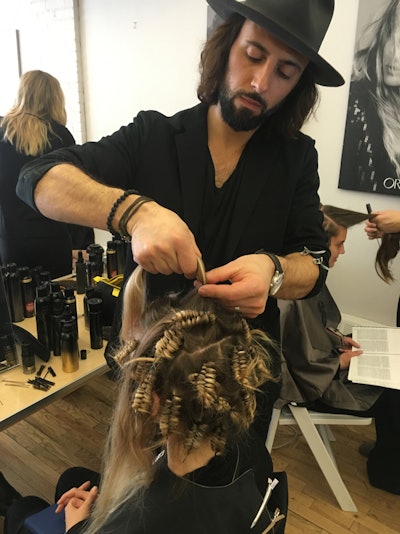 With the Fall/Winter 2017 Fashion Week season finally coming to a close, it was the perfect time for Oribe to host its "Journey to Mastery: Runway Report" class. In the intimate class, students not only got the inside scoop from Oribe educator Kien Hoang on the hottest runway trends, they also got to work alongside him to replicate on live models two looks he created during Fashion Week. Think: a Victorian punk updo from A Detacher and a coiled snake-like design from The Blonds. "It's all in the details: We're learning how to manipulate the hair, how to hold our hands properly, and about body positioning and utilizing the head shape," says student and stylist Gina Conte of Atelier Salon in Las Vegas. "[It's great to be able to watch Kien] and his mannerisms. He's also humble, passionate and knowledgeable. I don't think you can beat that!" Bonus: Once the students completed their looks, a professional photographer was at the ready to snap photos for their portfolios.
Hoang took a few minutes out of the busy day to chat with Launchpad about the trends he saw from Fashion Weeks across the globe, the looks on the day's agenda as well as the importance of education. Read on to find out more from Hoang and visit oribe.com/journey to nab a spot in the next Runway Report class!
Launchpad: Tell us about the mood boards you created for the class and what you envision to be the hottest Fall/Winter 2017 trends.
Hoang: Our team went through three cities for Fashion Week—New York, Milan and Paris. [For this class,] Oribe asked me to come up with five trends that were the common thread. I couldn't just choose five!
[One of the big trends I saw] was individualism, so [I grouped] Cut, Bangs, The Purist and The Individual together. It started in New York at Alexander Wang where girls had radical haircuts—from pixis to chin length bobs to unapologetic bold cuts; in Milan it was that same sort of vibe with Prada casting off [how] the girls [came in]; and at Proenza Schouler, it was more pure with both longer and short styles, wavy and natural curls, and a center part.
[The second trend was] Broken Waves. For the past few seasons it was really about beachy waves but this season there were all different kinds of waves—afros, waves that weren't structured and waves that were hand-styled enhancing models' natural texture. They weren't reproduced waves like we've seen in the past. At Michael Costello, there were natural afro textures; at Nina Ricci our global ambassador James Pecis [crafted] loose, soft waves that were brushed away from the face; and it was the same for men's fashion, where we saw loose middle parts, natural texture, and broken and loose ends.
[There was also the '90s School Girl trend] and I loved all the vibrancy in the colors—at Versace there were electric, bright colors and in Paris there were school girl looks and '90s rave themes.
[Another big trend was] was Raked. It looked like the girls had been walking around in a snowstorm with hair that was really wet on top with the bottom dried naturally. Details were big too. At Balenciaga the hair was loose and undone with an elastic that was almost falling off; at Dior it was all about leather and berets; and at Gucci the hair was vintage, geek and futuristic.
In [the first half of] class today we're working on a Victorian punk look I created for A Detacher, which I put in the world of The New Classics, where you also saw bouffants, French pleats and twists. [For this look, the students are working on] creating texture and learning how to fold it in—it's four French twists that are pinned. The roll should have a messy texture that's little bit more punk rock and not too shaped. [To get the look, the students are crafting] figure 8's and then ironing them to get a zigzag shape that they then fold back. We're using Oribe Swept Up [Volume Powder Spray] to create volume at the roots and Oribe Free Styler as a working spray, which helps to roll the hair in and then tear it out.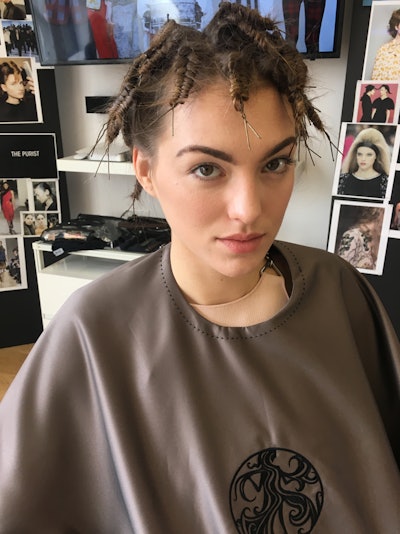 Launchpad: Why did you choose to have the students practice the A Detacher look?
Hoang: I chose it because it calls for a lot of steps. We wanted to bring a little bit of the runway but also wanted to give students techniques they can use at home—like how to create a braid base, a figure 8, and how to use products, to roll, to put a rubber band in and pin the hair. [It's about learning] techniques they can take back to the salon. [For example,] with a figure 8, they can create their own form and layer natural hair over it to create little chignons. [We're also showing them] how to look at the overall visual look, [for example,] having their model stand up so they can look at them straight-forward and at the whole picture.
Launchpad: What's the story on the rest of the trends on your mood boards?
Hoang:  My favorite of all the shows was Comme des Garcons. It was about The Futurist—the materials of paper and insulation. It made my mind wonder! And today, [for the second look the students will learn to create,] we're going to move from The New Classics to The Art Form. It's like when models run from show to show, as soon as they show up to the show, we have to learn how to break the hair [from their previous show] down and use products that move the hair into the new world. Today, we're going from hair that has lots of volume to [a look with] very smooth texture and a small shaped head.
Launchpad: Why is it important for the students to be able to learn that skill?
Hoang: [It teaches them the importance of] knowing their products and how to handle their tools. It also shows them ways to take a ton of volume and smooth it out quickly. We're going to be using Oribe Royal Blowout [Heat Styling Spray] and a flat iron to re-smooth the hair. Because it's a spray it should deflate very easily. [They can use this technique at home. For example,]: When a bride is getting married, she's moving around a lot so her hairstyle needs to be as strong as possible. She also might want to have her hair down when she's dancing. So you need to know which types of products will deflate texture so hair becomes more touchable and moveable. That's similar to today's scenario but we're going to move into sculpting [on the second look]. We're going to be doing the look I created for The Blonds this season. It's an asymmetric French twist rolled forward into a ponytail. We then separate the three tails and form snake-like figures that creep around the hairline and mold around the face.
Launchpad: That sounds very difficult to create!
Hoang: It's difficult if you don't know your foundations. Because it's a side French twist you have to know how to control your brushing and combing. Once they get the foundation I'm going let them have fun and create something of their own. These are just inspiration boards, but [we can teach them how to] use certain products, to hold and piece hair, how to look at the face to enhance the eyebrows and cheekbones, and how to add volume or no volume to the sculpting where it needs it.
Launchpad: What are the star products the students will use to create this look?
Hoang: To get the twist we're going to use Oribe Maximista [Thickening Spray]. We're also going to use Free Styler and Oribe Superfine Strong [Hairspray] and then to sculpt we're going to use Oribe Rock Hard Gel mixed with a little bit of Oribe Curl Gloss [Hydration and Hold] to make the hair a little bit more slippery.
Launchpad: With such a busy schedule, why is it important for you to make time to teach classes?
Hoang: It's so exciting for me. When I was growing up I always looked at magazines. I wanted to learn how to do the looks I found and there weren't any classes available. So when this class popped up [I jumped on it]. I love teaching. It's nice when people walk away and feel like they learned how to do something fun and create their own [takes on the styles]. It's rewarding. It's completely different than doing editorial which is more tactile and quick with images shot in one direction or runway which is about the movement. In class it's about technique and breaking it down, and being patient and having everybody getting it and loving it.
Launchpad: Why should education be a priority?
Hoang: It elevates the industry and what we do behind the chair. We can take it to an art form and combine all the technical skills. I want to contribute to that as I think it's really important.
Launchpad: What's the biggest lesson the stylists can learn today?
Hoang: The biggest thing is to really understand who you are while you're doing [the styles. For example,] understand your tension. Are you heavy-handed or light-handed?  There's so much more to learn [than people think].
Launchpad: What piece of advice can you offer to the stylists when they hit road blocks?
Hoang: Take a step back and breathe, take a look at the situation, and then move forward. Sometimes people don't know they're hitting road blocks and they just keep going—they're chasing their guide. In this atmosphere it's really about each section being very interactive so when you hit a roadblock, there's communication between the facilitator and the stylist so we can move forward. In this curriculum, you don't see the whole demo at once. We break down each step. [So for the first look today] we spent the first couple of hours demoing two different techniques that the stylists then put into practice. Then after, we demoed again and brushed it out and styled it together. Everyone is then on the same journey. If you do the whole demo and go back to the table, [it can be confusing on] where to start.
Launchpad: What makes you most proud about teaching this class today?
Hoang: That the stylists will be able to walk away with a wow factor that they can do something that they normally wouldn't do in the salon. It's very exciting and they're having a great time. That's what it's all about!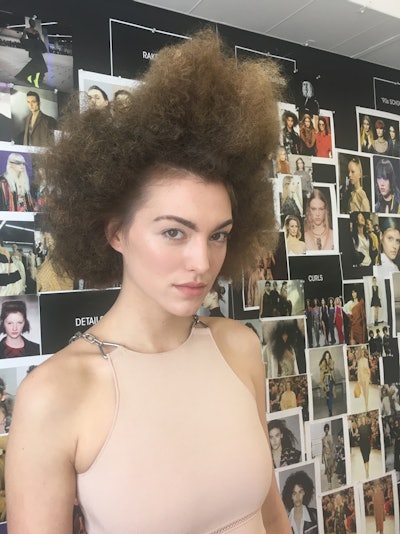 [Images: Molly Church]