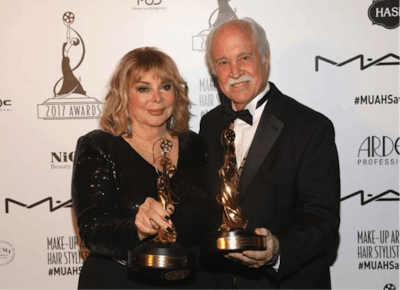 Lifetime Achievement Award Honorees Barbara Lorenz and Leonard Engelman.
For the third consecutive year, Ardell® lashes was a proud Ruby sponsor of the annual Make-Up Artists and Hair Stylists Guild Awards (MUAHS) held Sunday February 19, at the NOVO Theatre in Los Angeles.  
Ardell has sought to provide support for the dedicated artists who bring to life some of television and film's favorite characters while maintaining a solid relationship with Local 706 make-up artists for their MUAHS Guild award winning and nominated works seen on American Horror Story: Roanoke, Empire, Gilmore Girls: A Year In the Life and La La Land.
Ardell was also privileged to have been a part of honoring Barbara Lorenz, most recently recognized for her work on La La Land, and Leonard Engelmen, best known for his work with Cher and Meg Ryan, with the 2017 Lifetime Achievement Awards as well as in honoring Ryan Murphy with the Distinguished Artisian Award for his dedication in recognizing the significant artistic contributions of make-up and hairstyling in television and movies especially in the compelling characters of his award-winning series American Horror Story, Scream Queens, Nip/Tuck and new anthology series, Feud: Bette and Joan. 
Murphy announced the start of his new foundation, Half. Half is an organization which aims to fill 50 percent of all director positions on his shows with women, people of color and members of the LGBTQ community. In addition, Murphy announced the promotion of artist Eryn Krueger Mekash, who received awards for Best Special Make-Up Effects on American Horror Story: Roanoke and Best Character Make-up for her work on The People V. O.J. Simpson: American Crime Story, to the role of producer in Murphy's 20th Century Fox TV based production company.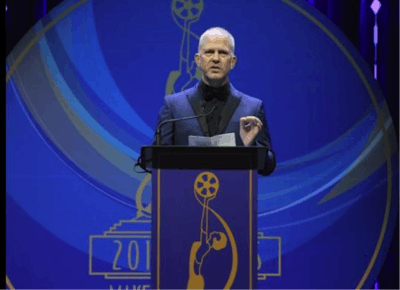 Ryan Murphy accepts the Distinguished Artisan Award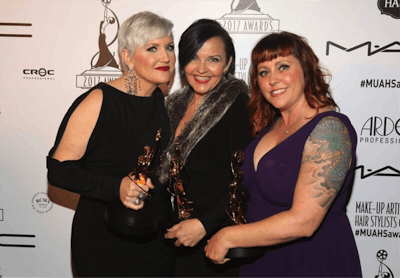 Eryn Krueger Mekash, Zoe Hay and Heather Plott, recipients of Best Period and/or Character Make-Up