By Kamala Kirk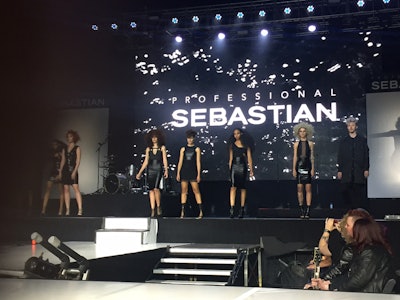 Models debuted a sneak peek of Sebastian's next innovation, the Twisted collection.       
It wasn't an easy task, but out of the 967 talented submissions that were received for the 2017 Sebastian Professional What's Next Awards, the competition was narrowed down to nine finalists who took to the stage with their eyes on the grand prize in Dallas, Texas. The event, which challenged artists to take their creativity to the next level by showcasing their unique style and creative artistry, also celebrated the WNA's fifth anniversary.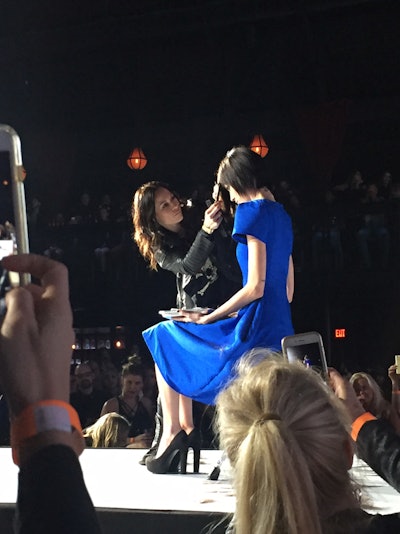 Marylle Koken performs an impressive haircut onstage in less than three minutes as part of the SS2017 RE-CHARGE presentation.
The high-energy show included a spectacular presentation with Sebastian Professional Top Artists Omar Antonio, Anthony Cole, Marylle Koken and Diva Poulos, who presented the SS2017 RE-CHARGE collection in a unique way—each artist performed a haircut on the same model, one at a time—creating a total of four looks in under 10 minutes.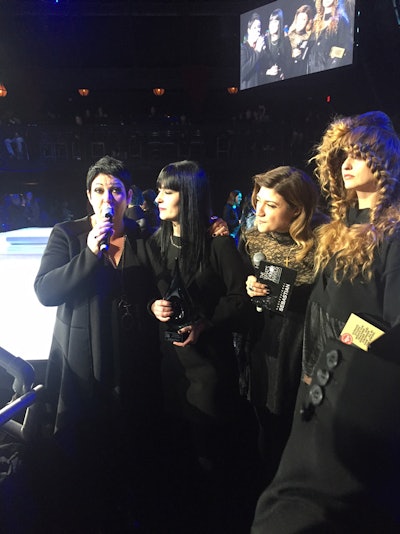 North American creative director Carole Protat interviews Affiiated Artist category winner Sabrina Cayer.
The 2017 WNA winners were Luis Maldonado (People's Choice), Beverly Iwuala (Student), Laura Rocha (Professional), and Sabrina Cayer (Affiliated Artist).  
This year's prizes included $1,000 for each winner along with an editorial photo shoot. The impressive panel of judges included industry icon Robert Lobetta, along with Gianpaolo Colombo and Damaris Earlewine—both were winners from last year, returning as judges at this year's competition.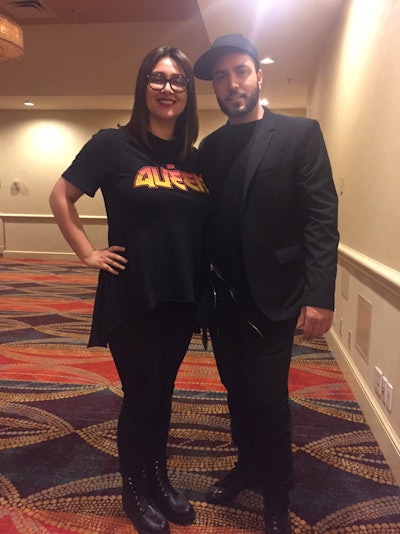 Judges and 2016 WNA winners Damaris Earlewine and Gianpaolo Colombo.
"Being a judge is probably the most difficult thing to do because you have to pick a winner," says Colombo, 2016 Affiliated Artist WNA winner. "And to me they're all winners. Just to get to this level, to get to the final stage, to show your face at a competition—you're a winner in my eyes."
"It was really exciting because I was on the other end of the table," adds Earlewine, 2016 Professional Artist WNA winner. "I knew exactly how they were feeling in the sense that they were excited and nervous."
When asked to share words of advice with stylists considering entering future WNA competitions, here's what they had to say:
Colombo: "I always believe in believing in yourself. As a fellow competitor, you always second-guess yourself. Just be inspired, you never know until you enter, and don't be hard on yourself. Competition is definitely a way to get your name out there, and be creative and inspiring. There's no right or wrong; it's all in the eyes of the beholder, and it's a great way to build your portfolio."
Earlewine: "Just take the chance; there really is no right or wrong, try not to be intimidated because the point of Sebastian is everybody is an artist and everybody sees art a different way, and that's what ties it all together. That's the beauty behind it: you get to see what someone else sees art as, it's going to be completely different so there's no reason to compare yourself to anybody because your artwork is your vision and you just have to do it. You've got nothing to lose."
[Credits: Kamala Kirk]