Keratin Holdings, a private investment group, has acquired Keratin Complex, leader in the keratin smoothing category and full-service salon product manufacturing. Noah LeFevre will serve as Chief Operating Officer and will oversee the day-to-day operations for Keratin Holdings.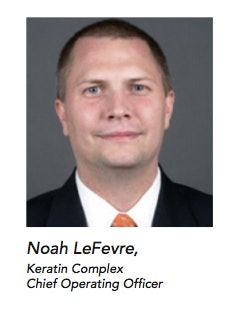 "It is a privilege to be involved with such a tremendous brand. Keratin Complex represents the very best in a number of different categories in the beauty space. As an industry leader, we will be committed to continuing the expansion of the Keratin Complex brand and developing our global leadership in the hair care arena," said LeFevre. "It truly is an exciting opportunity and we look forward to building upon the incredible history and innovative spirit that has been the guiding hallmark of the Keratin Complex name over the course of the last decade. We are committed to doing whatever it takes for the company's continued success."
Keratin Complex was founded in 2007 and quickly gained national and international recognition thanks to their innovative signature Smoothing Therapy. The company not only helped fuel industry growth in this category, but provided salon clients with effective, long-lasting solutions for beautiful, smooth hair. Working with leading chemists and hair-care experts, they realized that the key to creating an innovative treatment that was both gentle and effective lay in harnessing the power of keratin, an essential hair protein that delivers incredible benefits, endless versatility, and a never-before-seen smoothing effect—all without breaking the bonds of the hair. Since its launch, Keratin Complex has introduced hair care, styling and the Color TherapyTM range, a complete line of professional hair color.
Staying true to its innovative roots, Keratin Complex continues to revolutionize the industry with their newest offering, launching this May. Personalized Blow OutTM Same Day Keratin Treatment is a customizable treatment powered by K-Pure JuiceTM, a proprietary juice blend of keratin, botanicals and amino acids.
"The new Personalized Blow Out Same Day Keratin Treatment is another innovative milestone from Keratin Complex and one that delivers beautiful, flexible, customizable smoothing results for clients, while adding additional service options and revenue opportunities for stylists," added LeFevre.
The company looks forward to continued growth and innovation with the global expansion of the Keratin Complex brand.
[Images courtesy of Keratin Complex]