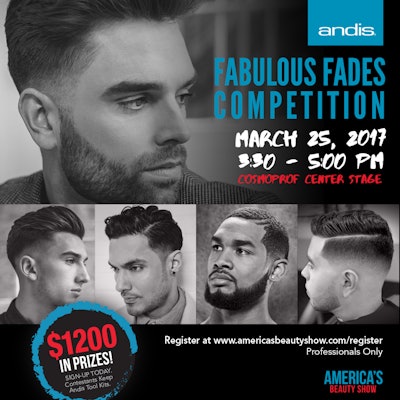 Andis Company has officially announced that registration is now open for men's grooming experts to battle it out during the first-ever Fabulous Fades Competition on the CosmoProf Center Stage at America's Beauty Show (ABS), on Saturday, March 25. 
This professional-only event showcases the clipper-cutting technique needed to implement a key component of modern barbering – the fade – into an original finished look that epitomizes Andis' cutting-edge style. 
Professionals from across the country will demonstrate their ability to create classic styles and cutting-edge looks while exclusively using Andis tools on a live male model. The contestants will have 30 minutes to complete the cut, removing at least 1/2 inch of hair in the process. Competitors will be judged on their technique, originality, style and tool usage by a panel of master barbers, including Andis' UK-based Educators Daren "Baldy" Kenny and Kieron Price. 
Competitors will take the CosmoProf Center Stage on Saturday, March 25, 2017 from 3:30 to 5:00 p.m. to win their share of $1,200 in prizes. Cost for registration is $100 and all competitors will take home an Andis tool package valued at more than $150. 
For more information about America's Beauty Show, and to register for the competition, please visit  Andis.