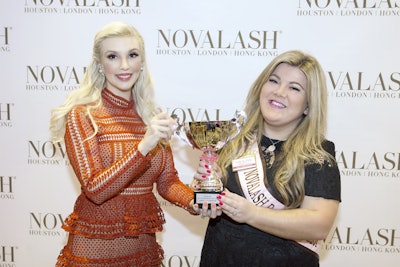 NovaLash CEO Sophy Merszei has announced the winners of her company's annual LASHoff, an elite competition that features the work of top-level lash artists from around the world. In this year's LASHoff ceremony at the Hotel Derek in Houston, Merszei crowned the 2017 LASH Artist of the Year, Sarah-Anne Barham of Sarah-Anne's Beauty in Felixstowe, England, and the Fans' Choice winner, Kelley Delmonico of New Reflections in Fridley, Minnesota.   
By exhibiting her exceptional skills and meticulous protocols, Barham proved herself a standout among a record number of competing NovaLash certified stylists. "Sarah exemplifies the standards, professionalism and techniques that have become synonymous with NovaLash," says Merszei. "The quality and time she dedicates to her work, coupled with her sensational artistry, put her a step above." Barham is, of course, over the moon—and grateful. "All of my success I owe to NovaLash," the talented artist says. "Not only have they given me outstanding education and the best support I could ask for from a company, but the brand itself is the best out there!" 
To select Lash Artist of the Year, a premier judging panel perused all finalists' submitted videos and still images. In addition to Merszei, the panel included NovaLash VP of Global Education Sophia Navarro; Modern Salon Editor-in-Chief Alison Alhamed, and Associate Editor Jamie Newman; Eye Lash Editor-in-Chief, Karie L. Frost; Co-Founder and a Director of the National Eyelash Education and Safety Association (NEESA), Amber Arrington; and Tialutrell McCormick, former NEESA Vice President and current governor-appointed member of the Nevada State Board of Cosmetology. Contestants were evaluated on application technique, product use, client communication, creativity and overall spokesmanship. The Fans' Choice winner was selected by the online audience, who reviews the finalists' still images and votes on favorites.
As Lash Artist of the Year, Barham receives over $25,000 in cash, prizes, advertising, marketing and travel with NovaLash. As the Fans' Choice, Delmonico takes home a similar winner's package valued at $10,000. "Kelley's work and her commitment to customizing each of her client's look is what makes her the fan's favorite", notes Vanessa Max, LASHoff co-ordinator.
Other winners included artist Amber Peters of Elite Lash, LLC in Dallas, who took the top spot in the Classics category, and Kate Baxter of The Dolls House in Inverness, Scotland, who won the Volume category.
Although this marks the seventh annual LASHoff, Merszei admits that choosing just one artist remains as challenging as ever. "All of our NovaLash artists are phenomenally gifted, especially when you get down to the finalists," she says . "Singling out one winner just doesn't get any easier." View the stellar evidence on NovaLash's Facebook page.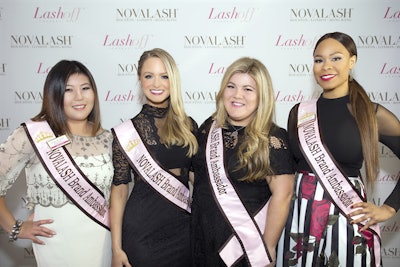 [Images: NovaLash]