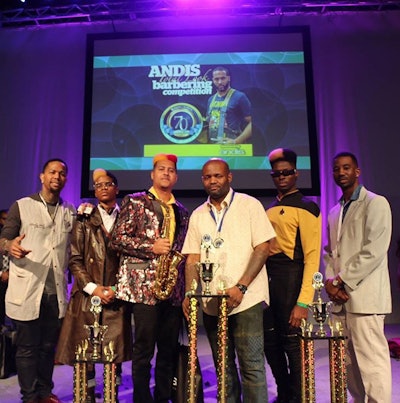 The Andis® Total Look Competition featured 26 of the top barbers from across the United States during the Bronner Brothers International Beauty Show on Sunday, February 12, 2017, held at the Georgia World Congress Center.
Johnnie Akons of Legacy Cutz, in Chicago, Illinois, earned first place and $500 in cash and product for his re-creation of a jazz- era look, complete with a saxophone.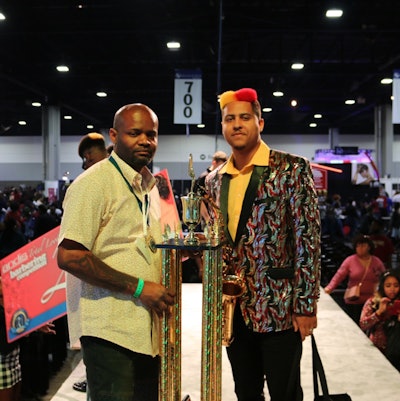 "The Andis Total Look Competition challenges some of the best barbers in the industry to tap into their creativity and pull together not just an innovative and well executed haircut, but also a total fashion look," says Andis Educator and past winner Eric Cheek. "Akons' jazz-inspired look hit high marks with the judges, and creatively it was the most original concept."
In front of a large professional audience, the 26 contestants had to execute a complete haircut in just 30 minutes, using the Andis ProAlloy® Clipper and GTX T-Outliner® Trimmer, in addition to the head-to-toe fashion look. Contestants were judged on technical execution of styles, originality, suitability and head contour.
"I want to thank Andis for the chance to flaunt my creative ability at the Total Look Competition," says Akons. "This honor is no doubt a step in the right direction towards a bright future."
Jason Chapman of Above Average Barber Shop in Fort Wayne, Indiana was awarded second place ($250 in cash and product); and Samuel Simpson of Strictly Skillz Barbershop in Hollis, New York, took home third place ($150 in cash and product).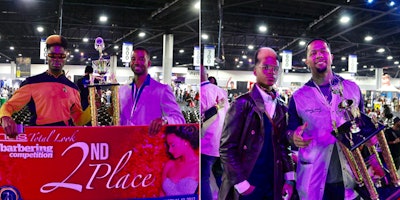 [Images: Andis Co.]