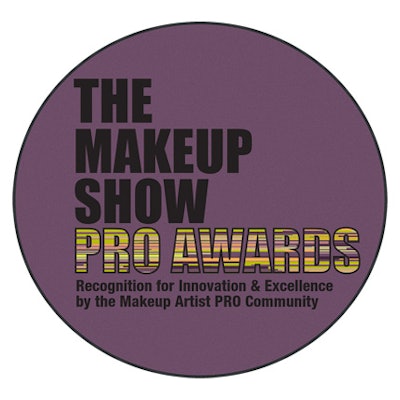 The Makeup Show, the annual pro-driven beauty event that brings makeup professionals and top brands together for education and inspiration, is about to get even better. In addition to the highly anticipated show that travels to top cities across the country, The Makeup Show will now host The Makeup Show Pro Awards, an annual awards series that allows makeup professionals the opportunity to give their favorite products a little industry love.
The Makeup Show Pro Awards is a unique series because, like the show itself, it is pro-driven. Where most awards poll the public on their favorite products, The Makeup Show Pro Awards is entirely curated by and voted upon by industry professionals and serious makeup enthusiasts. The products nominated for recognition in the Pro Awards are true industry favorites! The awards show consists of eleven categories, each category representing a different type of product, and each company that participates in at least one show during 2017 is eligible to nominate a product.
But that's not all! To kick off the debut of the awards, The Makeup Show is hosting the first ever Trend Event on February 7, 2017 in NYC. The Trend Report will give makeup professionals a sneak peek of 2017's hottest trends and most exciting product launches, and the On Trend event that follows will be a celebration of all to come at The Makeup Show in the new year. This will be an excellent opportunity for artists to network with editors, brand executives and influencers.
Award categories include:
Tools of the Trade
Prep and Prime
About Face
Concealer Weapon
High Brow
The Eyes Have It
Lash Out
Red Lip
Perfect Palette
Cult Favorites
New Kid on the Block
Important Dates and Deadlines
February 7, 2017: The Makeup Show's The Trend Report and On Trend event in NYC. Official award kick off event and sneak peek of 2017's hottest trends.
February 10, 2017: Each company is able to nominate a product in a maximum of eight categories and all nominations are due no later than February 10, 2017.
March 1, 2017: The voting will open for two months beginning on March 1, 2017.
May 7, 2017: Voting will conclude the first day of The Makeup Show NYC, allowing makeup artists and social media followers to cast their votes.
May 7, 2017: Winners will be announced Sunday, May 7, 2017 at a special awards ceremony for press and special guests.
2017-2018: The chosen products will then be displayed at all 2017 shows until Orlando 2018, giving all attendees the opportunity to view the winners up close.
The winners of The Makeup Show Pro Awards we received unparalleled recognition, as this awards show is truly by industry professionals, for industry professionals. Take advantage of this unique opportunity and nominate your favorite products — and then vote! All nominations should be submitted to merlo@themakeupshow.com, but remember, brands must participate in one of The Makeup Show events in 2017 to qualify!
For more details and updates, please visit The Makeup Show Blog.