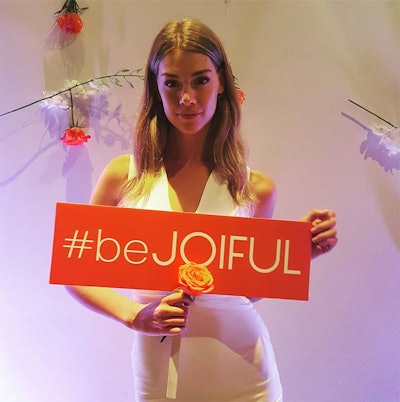 On October 23, hundreds of Los Angeles artists joined Joiful App for the Founding Artists celebration of the on-demand beauty services app. The app aims to bring the joy back into beauty services. Chad Law, VP of Sales and Marketing explains,"We found that a lot of men and women see it as an errand --getting a blowout, going to the beauty shop, getting a massage. People think, 'Do I have to go get a babysitter for the kids?' That's where the name comes from. We wanted to bring joy back. Women used to be excited about going to the salon and men used to be excited about going to the barbershop. With Joiful, you don't have to worry about traffic or looking for parking." 
We sat down with Chad Law at the Joiful Founding Artist event to learn more about this new app and what career advantages it offers beauty pros.
What services does Joiful provide?
We have a really nice menu of services from massage, skincare, haircare, nails and men's grooming. Starting with men's grooming, we offer hot shaves. We found that a huge percentage of clients who we tested on so far would like someone to come in and give them a shave on their lunch break. We also offer 60, 90 and 120 minute massages. We offer facial services with specific pinpointed treatments. We offer styling and hair services. We do updos, red carpet styling and blowouts. One big point of difference is that we are not doing a look book. I believe in the consultation process and creating the best version of the client instead of a cookie-cutter.
Why should stylists and beauty professionals join Joiful? What does it offer for their careers?
It's an interesting time in the industry right now. The industry has been really fragmented. There are commissioned salons that are highly successful, but then you have a lot of people that are independents that rent salon suites and do their own freelance work. There is a huge opportunity for people who have gaps in their day to fill it with something like this. Turn it on when you want, turn it off when you don't want to use it. It's a great way to get introduced to more clients. We aren't offering exclusive services like haircuts and color. We're doing blowouts, styling, men's haircuts and other services that our data has shown are not services where clients are super loyal to their stylists.
Additionally, I think artists that will be a really great fit for this are the ones that are coming out of school and struggling to find their place in the industry. There is an uncomfortable period from the time you graduate and the time you find your place in the industry. I know -I went through it! In the meantime, while you are finding your place, why not make some money? Turn this on and get introduced to amazing clients while perfecting your craft, and be a little more flexible with where you wind up.
Who would excel as an artist with Joiful?
It's about making sure the personality traits are there. When you are going into someone's home, office or hotel room, you have to be able to break down that trust barrier very quickly. We are looking for people who are extremely outgoing, friendly and don't have a hard time talking to someone without knowing a lot of their history. I believe it is a majority of this business. We are people people. We want to build the trust from day one, minute one.
Joiful is set to launch in Los Angeles in January and roll out across the country in 2017. Stay tuned as we follow the launch.