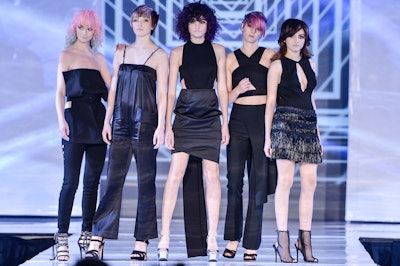 TONI&GUY debuted innovative women's and men's hair cut and color techniques for the hairdressing elite during a recent event at the InterContinental Hotel in Dallas, Texas. Historically restricted to TONI&GUY insiders only, the event marks the first year in which doors were open to experts, industry-wide.
The event, dubbed "Creative Release", delivered interactive experiences for TONI&GUY stylists, as well as cosmetology students, salon owners, influencers, and beauty enthusiasts. Zak Mascolo, Creative Director of the America's and the TONI&GUY National Art Team, took the stage to demonstrate renowned TONI&GUY cut and color techniques.  Advanced hands-on hairdressing classes were offered to attendees, who also enjoyed deep discounts on brand products and tools. Additionally, TONI&GUY debuted a branded apparel line designed for salon wear. The limited edition collection, which is comprised of style names that pay homage to members of the Mascolo family, included edgy, versatile pieces for both men and women in the hairdressing industry.
The highlight of the event was the introduction of two TONI&GUY collections, "Euphoria" and "Alter Ego". The former is comprised of a series of 5 advanced cut and color techniques, while the latter launched TONI&GUY men's clipper cuts. Alter Ego represents the first time in brand history that men's clipper cuts will be offered as a service at TONI&GUY salons in the Americas. With 5 styles to select from, each uses an innovative cutting technique designed by TONI&GUY that disrupts more than 50 years of scissor-over-comb grooming and ushers in a new era in men's hairdressing.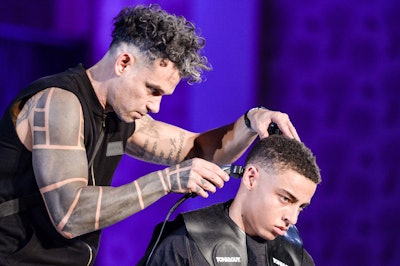 "We've mastered men's cuts using traditional scissor methods and always knew that we wanted to introduce a forward-thinking technique using clippers," said Zak Mascolo, Creative Director of the America's. "Our Alter Ego offerings are unique to TONI&GUY and we're excited to provide men with the next wave in grooming."
Following the showcase portion of the event were the brand's Photographic Awards, where stylists, students, and TONI&GUY alumni were celebrated and honored in categories such as Best Student Cut and Hairdresser of the Year.
For more information about TONI&GUY or its new service collections, please visit www.thecreativerelease.com.