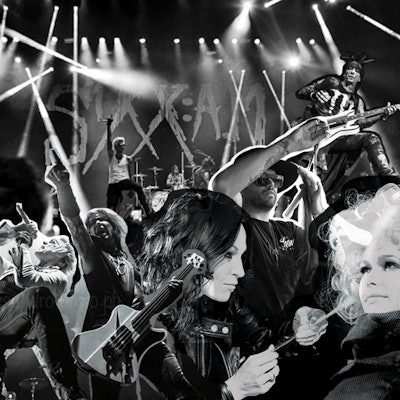 Sebastian Professional has announced that Sixx:A.M. (Nikki Sixx, Dj Ashba, James Michael) will perform at the 2017 What's Next Awards (WNA) on March 5th. Sebastian Professional's premiere styling competition, to be hosted in Dallas, Texas, will close with an exclusive on-stage set from hard-rock trio, Sixx:A.M.
Not only will the band perform for more than 500 professional hairdressers, Sixx:A.M. and Sebastian Professional have partnered to give away an all-expense paid trip to attend the event. Open to anyone who enters, one lucky winner and their guest will receive 2 round trip tickets to Dallas TX, a 3 day/2 night hotel stay, 2 tickets to see Sixx:A.M. on March 5th, 2 Rock Star Make Overs, meet & greet with members of Sixx:A.M. and 1 autographed guitar. Coinciding with the release of their new album, Vol. 2 Prayers For The Blessed, due out November 18, fans can tune in to Sixx Sense on iheart Radio in November, when Sixx  will announce the Rock Star Make Over by Sebastian Professional. "We love providing unique ways for our fans to meet us and see us live, and this is one of them," says Sixx.
Sebastian Professional first partnered with Sixx:A.M in 2014 when Sebastian artists Omar Antonio and Anthony Cress were lead stylists for the band's "Gotta Get It Right" music video. The single by Sixx:A.M. is featured on their Modern Vintage album. The stylists and band quickly clicked on set; in fact Antonio makes a cameo in the video.  
"Being a part of  What's Next Awards brings this partnership full circle," says Michael. "It's been great to collaborate with the Sebastian Professional brand, and their artists on our hair styles over the years."
The What's Next Awards celebrates its five year anniversary in 2017, and Wella North America's National Show Director Melanie Garibay couldn't be happier to have Sixx:A.M. on the lineup. "As a producer, I always strive to make WNA bigger and better every year and now we have the chance to make the five year anniversary show one of the best yet," said Garibay.
 
Sebastian Professional was the official haircare sponsor of Sixx:AM's global tour last year for their album Vol.1 Prayers For the Damned and kept their rock star style on-point. Sixx:A.M. even thanked Sebastian Professional on their album cover. "We have a very particular style, and Sebastian keeps our look unique," says Ashba, a longtime fan of the product line. "I always loved Sebastian products, since before I could call myself a rock star."
"Hair and music have a long history. The two industries are intertwined, especially for Sebastian Professional," says Carole Protat, Creative Director for Wella North America, who started her career with Sebastian in 1991 working closely with founder Geri Cusenza. "Sebastian's philosophy has always been to push boundaries, something that also rings true in the music industry. We've loved collaborating with Sixx:A.M. They understand our creativity and inspire millions of people around the world."
Stylists can enter Sebastian Professional's WHAT'S NEXT AWARDS until January 9th 2017. For more information, go to www.sebastianwna.com.