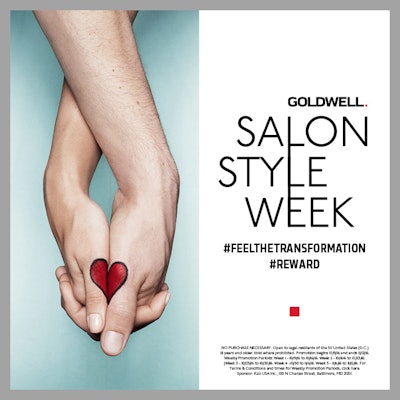 Goldwell is once again bringing back its popular Salon Style Week, a weeklong promotion designed to help salons build lasting connections with local beauty lovers and allow stylists to discover the Goldwell salon experience and its talented artistic team.
Salon Style Week was born out of Goldwell's desire to ensure its partnering salons grow and thrive. The program is designed to drive new clients into salons and encourage existing clients to try something new. This year, Goldwell is celebrating the profound style transformations that are achieved by Goldwell stylists by participating in the #FEELTHETRANSFORMATION #REWARD campaign, which will kick off with Salon Style Week on October 9th and will continue until November 12th, 2016.
Consumers can give back by uploading photos to goldwellsalonstyleweek.com. Each week, in addition to being posted on the Salon Style Week's photo gallery, the first 200 eligible entries will receive a reward email with instructions and a reward code to donate to a choice of more than 1,000 participating charities.
Other Goldwell Salon Style Week Highlights include:
Personalized Salon Service Menus: Customized service menus that include special offers while
underscoring each salon's unique personality and point of difference.
Client Gifts: Clients visiting Goldwell salons during Salon Style Week may receive a complimentary trial size assortment of Kerasilk Color Shampoo & Intensive Luster Mask as a reward for either trying a new service or referring a friend to the salon.
Stylists Buttons: Stylists at Goldwell salons will be given blank wearable buttons to write descriptions of the new style they just created sparking conversation around the look.
Goldwell style week goes from October 9-15, 2016. Consumers can visit GoldwellSalonStyleWeek.com to learn more about the campaign, explore the incentives and offers, and find participating salons in their communities.