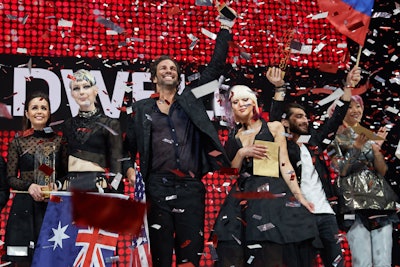 As 3,000 of their fellow international stylists cheered on, 94 national finalists from 37 different countries competed live and simultaneously in three different categories in the annual Goldwell Color Zoom Competition, which took place at the Global Zoom World Artistic Event held on October 2nd and 3rd in Stockholm.
 
Stylists were asked to create their own, imaginative interpretations of Goldwell's 2016 hair fashion collection to win a place on the Global Color Zoom Creative Team. The USA's own Daniel Rubin, from the Trio Salon in Chicago, IL, took the top award in the Partner category of the competition, featuring color creations designed by stylists who have worked for Goldwell for the past two years at shows or seminars. He also walked away with the Stylists' Favorite Award.
 
The other Gold Winners were:
Sardis Airapsetian from Russia in the New Talent Category
Larissa Bresnahan from Australia in the Creative Category
 
Daniel Rubin was singled out for his pioneering hairdressing skills and will serve on the Goldwell Color Zoom Creative Team and will be charged with creating the 2018 Color Zoom Collection.
 
"We knew we had exceptional entries this year, and that the U.S. finalists were some of the best we've ever seen," says Trevor Attenborough, General Manager, Kao Salon Division North America. "We are so proud of Daniel and the rest of the Color Zoom Challenge winners, and cannot wait to see what they continue to create in the future."
 
In addition to the competition, Color Zoom's 2017 Hair Fashion Collection, IN·FLUX, was unveiled at Global Zoom to much excitement and fanfare. The team behind the innovative collection, which was characterized by dark iridescent colors combined with seamless, fluid shapes, included two 2015 U.S Color Zoom Challenge winners – Corinne Brown from Spokane, Washington, and Harley LoBasso from Delray Beach, Florida.