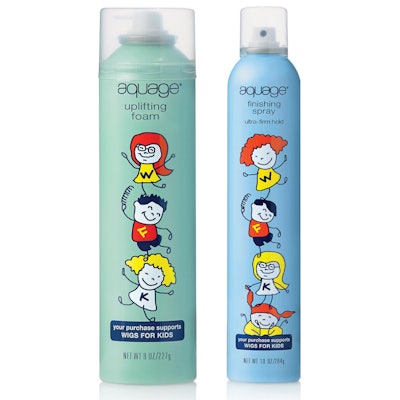 Aquage Professional Haircare has teamed up with Wigs for Kids for the third year in a row, pledging a minimum donation of $40,000 from sales of limited-edition designs of two of its best-selling products, Aquage Uplifting Foam and Aquage Finishing Spray, during September and October. Wigs for Kids is a non-profit organization dedicated to providing wigs to children experiencing hair loss due to alopecia, cancer or other diseases.
"Aquage is proud to support Wigs for Kids," says Dennis Lubin, co-founder of Aquage. "We have seen first-hand the difference their wigs can make in the life of a child suffering from hair loss. Our goal is not only to support Wigs for Kids financially, but also to create awareness of this wonderful cause. This year's promotion brings our three-year total donation to more than $100,000."
Aquage Uplifting Foam (8 oz./SRP $20.00/special promotion $18.00) with Algaeplex sea botanicals gives hair maximum lift. Aquage Finishing Spray (10 oz./SRP $22.00/special promotion $20.00) with Algaeplex sea botanicals is a fast-drying, firm-holding hairspray that delivers lasting style retention, humidity-resistance and maximum shine.
Aquage invites salons to help support this worthy cause. Here's how:
Purchase the limited edition cans to sell to clients to raise funds and create awareness.
Learn how to cut ponytails properly. It takes 20 to 30 ponytails to make one wig. Donated hair must be at least 12 inches long and cannot be chemically processed or colored. See the how-to video at aquage.com.
Hold a cut-a-thon or other special event to raise money for Wigs for Kids.
Place the special collection boxes on your front desk and at styling stations.
Sponsor a child who needs a wig. It costs about $1,800 to make one wig. Wigs are 100% free to families and are updated for free as the child grows.
To help salons create a powerful visual statement and raise as much money as possible for this worthy cause, Aquage has created a comprehensive Wigs for Kids Merchandising Kit. It includes a product display, a large donation box for the reception desk, four small donation boxes for key styling stations and a gift certificate for one free Wigs for Kids T-shirt. The kit, valued at $60.00, is free to salons with the purchase of one case each of Aquage Uplifting Foam and Aquage Finishing Spray.
Says Jeffrey Paul, founder of Wigs for Kids, "The support of the Aquage family and hair stylists across the country helps Wigs for Kids change the lives of hundreds of children by giving them back their hair, as well as their self-esteem, their smiles and their ability to look like themselves and live their lives."
Join Aquage and Armstrong McCall for a special premiere of "From My Head to Hers" at the Aquage Pavilion/Booth 1317 during the Armstrong McCall World's Fair on Sunday, September 18, at 6:30 p.m. in Austin, Texas. This award-winning documentary, which was produced and directed by aspiring filmmaker Maria Alvarez, daughter of Aquage's Luis and Wanda Alvarez, documents her experience donating 14 inches of her hair to Wigs for Kids for a hair replacement system that's custom-made for Kenzie, who was diagnosed with alopecia at 9 months old. Tickets to the premiere are $20.00, with Wigs For Kids receiving 100% of the proceeds. Contact your Armstrong McCall sales team member or Aquage representative for tickets and more information.
Watch the documentary at http://www.wigsforkids.org/from-my-head-to-hers-marias-hair-donation-story.