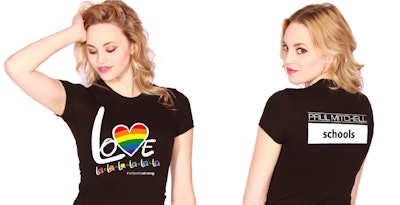 When Paul Mitchell The School Orlando owner, Giulio Veglio, wanted to help his city after the tragic shootings at Pulse nightclub, he reached out to the Orlando-based ShearGear company and asked them to design a T-shirt that Paul Mitchell Schools could wear and sell to show their support and raise money for the victims and their families. In less than a week, schools throughout the Paul Mitchell network ordered 2,373 shirts. They plan to sell the shirts for $20 each, to raise over $33,000 for www.gofundme.com/pulsevictimsfund and additional Orlando charities selected by the schools.
"I love the idea of a fundraising tee to help the needs of all affected by this tragic event," said ShearGear Cofounder William Hardesty. "The event has impacted not only our community here in Orlando, but has wrapped the globe. It is sad that it takes an event like this to make people aware that people are just people. I took [Giulio's] suggestions and came up with something I think would deliver the message of equality, unity, and the human kindness our industry tries to convey."
Paul Mitchell Schools Dean and Cofounder Winn Claybaugh said, "While the country continues to mourn the tragic shootings at Pulse Nightclub in Orlando, our Paul Mitchell Schools have done what they always do — they've gotten busy and found beautiful ways to send love and support to people who are hurting."
Claybaugh added, "We all have power and influence, and yes, our Paul Mitchell Schools' world is huge, so why wouldn't we use our power and influence to raise money and help other people? Maybe your business is only 2, 20, or 200 people, but what could you do? And by the way, it's not too late because there is still a long road of recovery ahead for the Orlando victims, families, friends, and community."
Ramon Gonzalez of Paul Mitchell The School Cincinatti, traveled to his hometown of Orlando, Florida, to help the community after the tragic events at the Pulse nightclub. Ramon lost 21 dear friends and family members. While he was here, he helped raise donations for the families and friends of those victims who were hurt or killed that night. "My message for everyone is to love yourself and everyone," Ramon said. "Spread love, not hate. Don't be afraid to be yourself and help others. Love is love, and love always wins."

The "Love is love is love" message on the front of the shirts was inspired by Hamilton composer Lin-Manuel Miranda's Tony Award acceptance speech:
"We rise and fall, and light from dying embers,
"Remembrances that hope and love last longer,
"And love is love is love is love is love is love is love is love,
"Cannot be killed or swept aside."
For more information, please visit paulmitchell.edu.