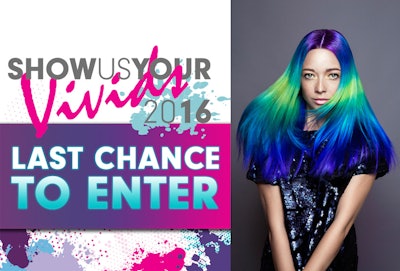 It's your last chance to enter PRAVANA's prestigious Show Us Your VIVIDS Contest, a hair coloring competition designed to encourage hair artists to unleash their inner creativity and share their brightest, most head-turning hair color creations. The first place winner will get their own editorial-style photo shoot in Los Angeles, a feature in a national magazine, PRAVANA products and more! This year, PRAVANA is adding even more exciting prizes to the first place winner's package that will be announced throughout the duration of the contest.
In addition to PRAVANA's current collection of VIVIDS, PASTELS, NEONS and Locked-In hair colors, participants can also incorporate the three all-new VIVIDS Jewels shades that hit the market this May for even greater creative opportunities. Submissions will be accepted through June 30 and winners will be announced July 15 through PRAVANA's social media outlets, website, e-mail blasts and more, reaching a combined community of over one million subscribers!
HOW TO ENTER
To enter, submit three photos of a live person showcasing your contest entry and one image example of inspiration used to conceptualize your entry. Entries must include a complete description of how the look and style was created along with formulas and a list of the products used. All products must be PRAVANA.
 
Required Entry Materials:
(One) image of entry inspiration.
(One) image of model before color application.
(Two) stylized images of model after color application
Paragraph detailing entry inspiration, description of products used, color technique and how style was achieved.
Completed entry form fields.
 
Need help getting getting your entry together? Check out this video from PRAVANA on how to enter.
Entries will be judged based on creativity, technique and overall impact. For full contest description, official rules and to submit your entry, please visit: www.pravana.com.