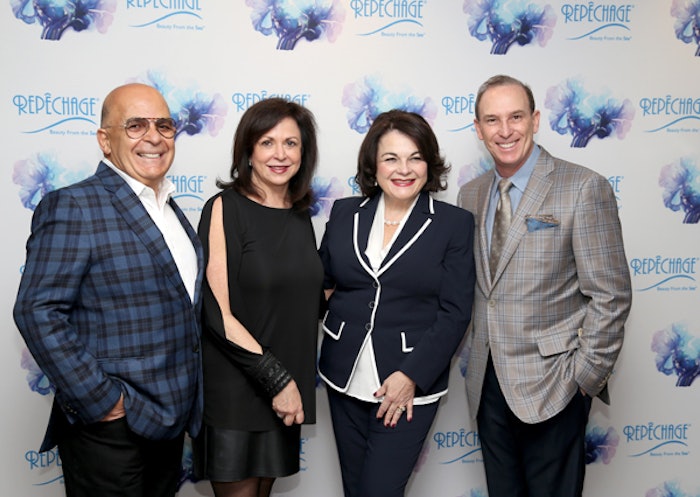 Earlier this week, Repechage kicked off its 18th Annual International Conference in Manhattan's Affinia Hotel where guests were welcomed with smoothies and then treated to a sit-down lunch, champagne and strawberries and a day chock-full of speeches on ways to better business.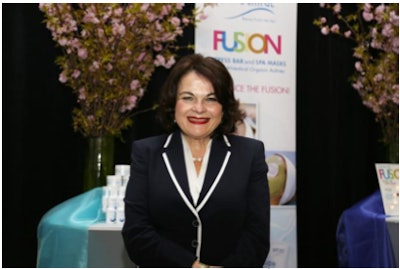 CEO and Founder Lydia Sarfati first introduced Repechage's newest line Fusion, which includes Express Bar and Spa Masks with Nutriceutical Organic Actives and at-home products. "We've taken the best from the sea and merged it with the best from the earth," explains Sarfati. "Fusion is a whole new experience for the salon, for the spa and for the express bar." With four delicious flavors to choose from (think: Matchafina made with matcha tea, a high-grade and potent antioxidant; Berryfina, a mix of blueberries, strawberries and beets; Chocofina, derived from pure organic Italian chocolate; and Vanillafina, a combo of vanilla from Madagascar and pumpkin from the U.S.), the Fusion actives are mixed with Laminaria digitata seaweed, aloe vera, orange water, coconut oil and acai berry to enhance and stimulate the senses while simultaneously hydrating skin. To complement the masks, Repechage is also rolling out at-home treatments that include the All Natural Facial Moisturizer, a soufflé of coconut oil, aloe vera, chamomile, vanilla and rooibos tea extract, and All Natural Face and Body Wash, a soap comprised of coconut, olive and palm oils, both of which are infused with Laminaria Complex to deliver soft and smooth skin.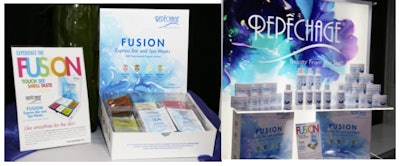 The Fusion line not only tantalizes the senses, it's also designed for the entire family and can be marketed as a way to spend time with loved ones who may have lost touch in the digital world. "Fusion is perfect for anyone, whether you're 8 or 80," says Sarfati, who expresses the importance of educating children from a young age on proper skin care. "Children are glued to devices and it eliminates the special time you can have with family and friends. [Proper skin care] is something I always instilled in my girls. It [became a way to] create a memorable, delicious experience."
Sarfati also spoke about of the benefits of massage and suggested a way to boost business at resort spas is to create a combo massage/facial package. "Seventy-five percent of requested services at resorts are massages," says Sarfati, who deems Fusion a 'Vacation Facial,' perfect for resorts, teen and bachelorette parties, and mother-daughter days. "[Combining them] will also [enhance] the sensory experience for the client." Taking that experience even further, she suggests to offer clients tasty smoothies, to fill the salon with fresh-cut flowers, to design a colorful ambience and to make sure children feel at home with her newly designed comfy kid-sized facial chairs.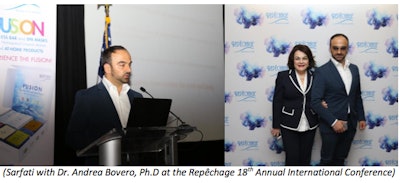 Next up, Dr. Andrea Bovero, an renowned author and President of CIDESCO Italy, spoke about the connection between the brain and skin care and echoed Sarfati on the importance of creating an environment for clientele that touches on all of the senses. "The future of wellness is to offer a multisensory approach," he explains. "You can turn a normal experience into an amazing one." Think: Use colors to excite; play music to evoke emotions; offer fruit and teas to stimulate taste; and massage to exhilarate touch. He finished by talking about the olfactory system, and noted that smell is the No. 1 sense to focus on as it is associated with memories and can alter people's moods. He suggested to use aromas and essential oils in the spa and in marketing to connect to clientele on a deeper level, to create a memorable experience, and to garner new clients and long-term loyalty. "Smell is the most powerful emotion of all the senses," he says.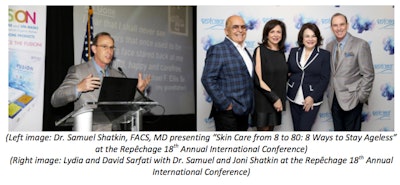 Dr. Samuel Shatkin, owner of Aesthetic Associate Centre for Plastic Surgery in Buffalo, NY, spoke about skin care from childhood to adulthood, and offered up eight ways to stay ageless. Think: Correcting Deformity, molding and refining to boost confidence; Improving Wellness, starting at an earlier age with food and skin care management; Reversing Gravity, refreshing skin and turning back the clock; Smoothing Surface Irregularities, with skin peels, facials and lasers; Restoring Volume, to enhance appearance with fillers and hydration; Reducing Lines and Wrinkles, with botox; Relaxation, to rejuvenate the mind and soul with massage; and Enhancing the Smile, to build self-esteem with botox and veneers. "The body and mind go hand-in-hand," he explains. "It's about building confidence and self-esteem." He also suggested spas offer tooth whitening services while clients get facials. "It's a great opportunity and individuals will come back to you if they have a powerful experience they remember," he says.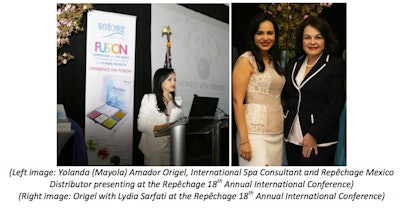 To conclude the day, Yolanda (Mayola) Amador Origel, international spa director and distributer of Repechage Mexico, talked about marketing strategies and about the importance of setting yourself apart from the competition, evolving, and thinking about the core and why of your business. She offered up demos from innovative and successful ventures she's spearheaded in Mexico: Melange World Spa, where the décor and services comprise of a mixture of traditions and cultures from around the world; Wow Facial Bar, a facial- and nails-only salon with an uber affordable price bracket and a no robes, no slippers, no closed rooms mantra; Mamma Mia Salon & Facial Bar, a place where mom's and daughter's can be pampered at the same time with an area exclusively for adults and a princess-inspired area for the children; and Barber & Booze, a grooming salon for men with a full-service bar featuring a mixologist and a specialty cocktail list. "Life isn't about finding yourself, it's about creating yourself," she says. Stuck in a rut?  "Think about one word that will inspire you throughout the day," she suggests. "If you think positive [success will come]."