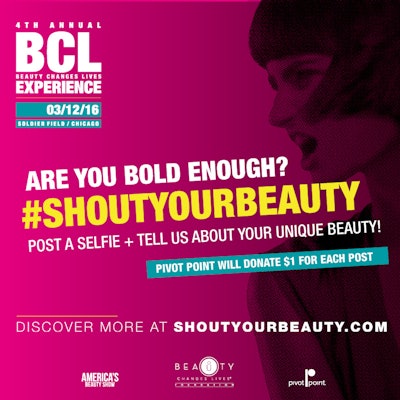 The saying goes that you can't put a price on beauty, but Pivot Point International will donate $1 to the Beauty Changes Lives Foundation up to $10,000 for every selfie that includes the hashtag #SHOUTYOURBEAUTY or #BEAUTYCHANGESLIVES through August 8, 2016.
The 4th Annual Beauty Changes Lives Experience is an opportunity for the beauty industry to "rewrite the story" when it comes to beauty – challenging conventional perceptions and redefining the many ways beauty is interpreted. Beauty Changes Lives is a non-profit, 501c3 that raises funds for beauty school scholarships, professional beauty mentorships and continuing education. The Foundation has awarded more than $1M  in scholarships since 2013.
Tag your selfies with #SHOUTYOURBEAUTY or #BEAUTYCHANGESLIVES, and encourage your clients to do the same!