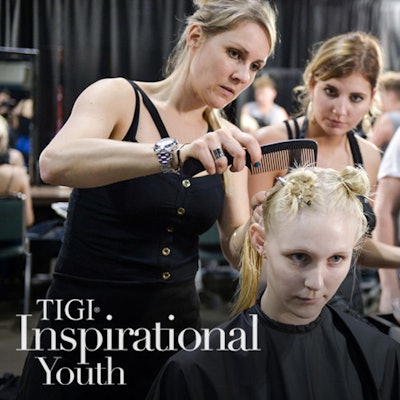 Hair care brand TIGI recently announced that it has extended the deadline to apply for the brand's Inspirational Youth - a 6-day educational event held in New York - to February 15, 2016. Inspirational Youth has established itself as one of the most respected and successful youth-training programs in hairdressing. Ten finalists will fly to New York to be mentored by the TIGI International Creative Team during an intense, 6-day boot camp taking place from April 26 - May 1, 2016. Attendees will expand their technical and creative knowledge, enhance their presentation skills, and learn about fashion and photographic work, as well as develop both as individuals and, ultimately, as a strong team. At the conclusion of the boot camp, contestants return home to refine their skills before traveling to Orlando, Florida from June 4 - 6, 2016. The fan favorites will be announced during the Americas' Finale on the Main Stage at Premiere Orlando on June 5, 2016.
All entries must be received by February 15, 2016. Finalists will be announced on March 1, 2016.
To enter, send a request for application to educationamericas@tigihaircare.com.
Requirements
Must be between the ages of 20-25
Must be a licensed hairdresser
Participant Responsibilities
Ground transportation other than IY sponsored events
Luggage Fees
Provided by TIGI
Hotel Accommodations
Breakfast/Lunch/Dinner
Ground transportation to IY related activities
Models/Photographers/Etc.
Flights are included
10 Finalists Will Receive
Trip to TIGI NYC Academy for Boot Camp
April 26 - May 1, 2016
Trip to Orlando for Main Stage competition at Premiere, June 4 - 6, 2016
TIGI Collection 2016
TIGI PK Ring
Color Manuel
2 Fan Favorites
Work Behind the scenes at BTC Color, Cut and Style Show, Ft. Lauderdale September 25 - 27, 2016