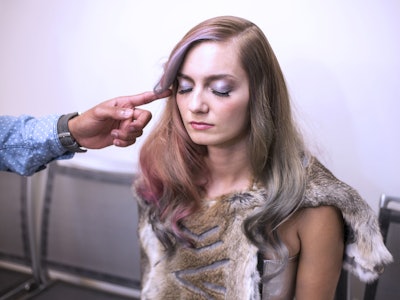 With over 120 in attendance on Tuesday, December 8, Wella Education revealed Wella Professionals 2016 Trends, Molten Ecaille and Bronde Lux, which were launched in Berlin last month. It was standing room only as stylists watched the trends come to life at the hands of Wella Studio Artist Frank Andrade and Wella Top Artist Brenton Lee. "Enter the TrendVision competition!" was the message and inspiration was the clear takeaway.
Wella Studio Signature Artist Frank Andrade presented this year's spring summer trend, Molten Ecaille; he discussed how the rich palette of burnished bronze, rose gold, rich copper, tortoise shell, and polished platinum comes together in the ultimate transmission of luxury and couture. As he crafted his model's final look, he discussed the heart of true craftsmanship, the deliberate decision for quality versus quantity and encouraged those who'd never entered Trend Vision to sign up for the Trend Vision Editorial course, hosted at the Studio LA and NYC locations. Noting how creating a TrendVision entry can be intimidating but reminded the inspired stylists; you don't have to do this on your own.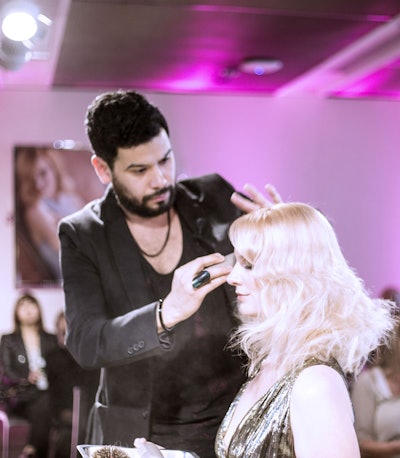 Wella Top Artist Brenton Lee then gave the audience a sneak-peak of the Autumn Winter Trend, Bronde Lux, describing the trend as a fusion of comfort and luxury. His model displayed a color palette of warm brunettes, warm cashmere, cool minks, amber, grey and dusty blues. The salon owner and 5-time Trend Vision finalist spoke about competition as a platform to success. Explaining why entering the Trend Vision competition is not only important to him as a stylist but as a salon owner. He said it's crucial for his salon team to get out from behind the chair and sharpen their creative skills.
Paula Rufo, Wella Portfolio Education Manager, took the stage asking for a show of hands, "Who's ready to enter TrendVision this year?" As hands shot up through the crowd, she added, "Don't forget the TrendVision Editorial Course offers a panel of trend experts who will mentor you from start to finish." She introduced the talented trio: make-up artist Eric Allen, wardrobe stylist Onna Suvoy and photographer (and Wella Top Artist) Nick Berardi. The panel shared some of their insider tips on makeup application, competition wardrobe, and photo styling, inviting stylists to speak with them afterwards.
As the crowd began to buzz, Paula asked special guest Larisa Love, who'd just attended International Trend Vision in Berlin, to say a few words. "My trip to Berlin officially serves as the most exciting event in my career to date. The talent showcased at the event opened my eyes to international hair trends and artistry. I am so excited to implement new techniques and styles on current and new clients in my own studio," said Love.
To learn more about Wella Professionals 2016 Trends please, visit www.wella.com.
For more information on entering the National Trend Vision competition, visit www.bloom.com/wellacompetitions. Entries are due May 15th 2016.