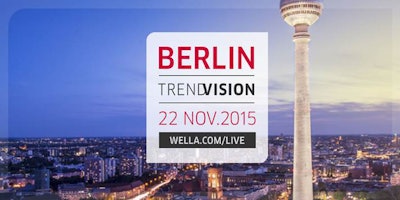 Experience the craftsmanship and creativity of the Wella International Trend Vision Competition & Awards, LIVE from Berlin on November 22nd 2015! Watch the 69 finalists – all National TrendVision winners, from 39 countries, demonstrate their skill set and creativity in hopes of being crowned one of hairdressing's rising stars of the future. Finalists will bring their artistic interpretations to life for a panel of prominent industry experts led by Wella Global Creative Directors Josh Wood and Eugene Souleiman.
This year, Wella is inviting fans from all around the world to be part of the phenomenon that is Wella TrendVision. Celebrating 135 years of leading innovation and creativity in hairdressing, Wella has developed an exciting program of exclusive live and on-demand online content which will bring you closer to Wella than ever before. The full Wella TrendVision experience will be broadcasted on www.wella.com/live and across all Wella social media channels –@WellaHair on Instagram and @WellaPro on Periscope and Twitter at 5:00am (PST) 8:00 am (EST). The beautiful catwalk will host the creations of renowned Sassoon Professional and Sebastian Professional teams in addition to the talented teams at Wella Professionals.
INTERNATIONAL TRENDVISION competition AND AWARDS
Hairdressing fans worldwide will be able to watch the competition live from Berlin on Wella TV at www.wella.com/live on Sunday from 5:30 am (PST) 8:30 am (EST), with the results airing live from Berlin at 10:20 am (PST) 1:20 pm (EST) be sure to watch this must-see event in hairdressing on Wella TV and cheer on your favorite competitors!
VOTE FOR YOUR FAVORITE!
Online voting for the coveted People's Choice Awards opens will open on www.wella.com/live from 5:30am - 9:00am (PST) 8:30am - 12 pm (EST). Hairdressing fans will be able to vote for entries in the Color Vision and Young Talent categories who they felt showed the most craftsmanship and creativity, using the online voting options.
North American finalists competing in Berlin this year; For the US: Katie Manselle of Samuel Cole Salon in Raleigh, NC (Color Category), and Alisha Basham of London Hair Studios in Eugene, OR (Young Talent). For Canada: Ilona Garson of Jet Black Hair & Studio in Ottawa, ON (Color Category) and Paige Ingram of Union Salon Vancouver, BC (Young Talent). For Puerto Rico: Luis Maldonado Mercado of Beyond Salon (Color Vision) and Jose Antonio Flores Virella of The Salon by Sheila (Young Talent).
Wella TV will be available on-demand at www.wella.com/live even after the event is finished.