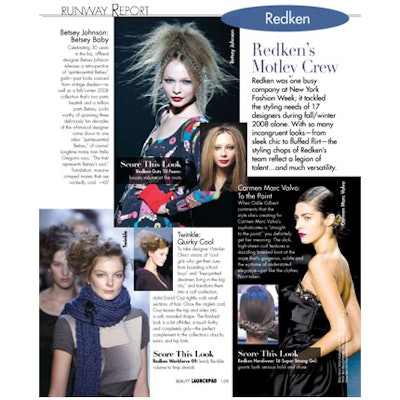 Redken was one busy company at New York Fashion Week; it tackled the styling needs of 17 designers during fall/winter 2008 alone.
Designers: Betsey Johnson, Twinkle by Wenlan, Carmen Marc Valvo
Products: Redken
With so many incongruent looks—from sleek chic to fluffed flirt—the styling chops of Redken's team reflect a legion of talent…and much versatility.
Twinkle: Quirky Cool
To take designer Wenlan Chia's visions of "cool girls who get their cues from boarding school boys" and "free-spirited dreamers living in the big city," and transform them into a coif confection, stylist David Cruz tightly coils small sections of hair. once the ringlets cool, Cruz teases the top and sides into a soft, rounded shape. The finished look is a bit off-kilter, a touch frothy and completely girly—the perfect complement to the collection's slouchy tunics and hip knits.
Score This Look
Redken Workforce 09: lends flexible volume to limp strands
Betsey Johnson: Betsey Baby
Celebrating 30 years in the biz, offbeat designer Betsey Johnson releases a retrospective of "quintessential Betsey" garb—past looks sourced from vintage dealers—as well as a fall/winter 2008 collection that's two parts beatnik and a million parts Betsey. Locks worthy of spanning three deliciously fun decades of the whimsical designer come down to one idea: "quintessential Betsey," of course! Longtime mane man Italio Gregorio says, "the hair represents Betsey's soul." Translation: massive crimped manes that are wickedly cool.
Score This Look
Redken Guts 10 Foam:  boosts volume at the roots
Carmen Marc Valvo: To the Point
When Odile Gilbert comments that the style she's creating for Carmen Marc Valvo's sophisticates is "straight to the point," you definitely get her meaning: The slick, high-sheen coif features a dazzling braided knot at the nape that's gorgeous, subtle and the epitome of understated elegance—just like the clothes. Point taken.
Score This Look
Redken Hardwear 16 Super Strong Gel: grants both serious hold and shine
—Karie L. Frost