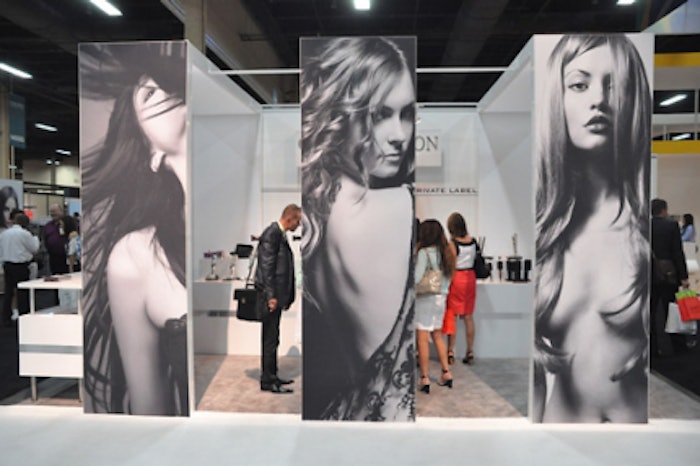 Every year, trends are discovered at Cosmoprof North America (CPNA). Celebrating its 10th anniversary in Las Vegas this past July, the professional beauty show featured the latest in spa and salon products, drew 25,000 attendees, 856 exhibitors, and had a 9% attendance increase versus last year. Retailers and innovation seekers scoured countless aisles to find new brands and categories to introduce to their consumers. Many of the trends discovered at CPNA are usually found on runways during fashion week and in fashion magazines. Key trends seen at CPNA include a plethora of different nail offerings—from textured nail formulas to mood changing shades to at-home gel options—as well as DIY smart phone skin analysis technology, beauty oils, organic hair lines, technology to improve hair growth / texture and next generation hair smoothing treatments, minus harmful chemicals such as formaldehyde. For the second year, CPNA brought back the TrendScouts to report on the hottest finds in beauty. Their tweets were displayed throughout the show floor, this along with the findings from beauty bloggers, editors, makeup artists and retailers comprise the CPNA 2012 Trend Report.
NAIL TRENDS:



Unlimited Shades of Everything: Expect a slew of new gel color shades from CND, OPI, China Glaze; and a new color collection from Seche Vite. CND has six new Shellac shades for fall, bringing Shellac's total shade count to 42. For fall 2012, OPI is partnering with the new James Bond 007 film "Sky Fall" with new shades of gels, lacquers, magnetizers and nail appliques. OPI is also launching an 18K Gold Lacquer Top Coat containing real gold leaf, to sell for $30. China Glaze is launching half a dozen new shade collections for the back half of 2012 including On Safari, New Bohemian and Cirque Du Soleil 3D. The brand is also launching its first ever Real Nail Polish Appliques. Seche Vite, the best-selling Fast Dry Topcoat brand is launching a 33-color collection in September 2013. It will utilize Seche Vite's fast drying technology and only require one coat for maximum color.
Textured nails are everywhere: Professional offerings by CND and Young Nails allow aestheticians to apply pure pigment in the form of mica powder directly onto nails to deliver brilliant glimmer, sparkle or texture. CND calls their powder Additives, which is shipping now to salons. And, Ciate, the maker of the Caviar Manicure now available at Sephora, and launching the Sequined Manicure and the Velvet Manicure in four sku's, in the fourth quarter. For professionals, Ciate is launching the Caviar Manicure Bar that includes 47 tubes of caviar bead colors. For the mass market, Ciate has created Nail Rock, designer nail wraps. Layla Nails – the Winner of the 2012 Discover Beauty Award introduced the fall shades of the widely popular Magneffects and Hologram Collection. Their newest launch, Soft Touch, adds an element of matte with texture, available in 12 hues for Fall/Holiday .
Environmentally friendly nails were also prevalent such as Acquarella, a premier water-based nail polish brand with highly advanced, technology in their nail polishes and removers – which does away with harmful petrochemical solvents and chemicals. Peacekeeper Cause-Metics is rated one of the safest paint-based nail lines by the Environmental Working Group, (and) the ECO-SMOOTH NAIL PAINTS are four, new long-lasting enamels made with indigenous Argan Oil, which is high in amino acids. All profits, after taxes, are used to support women's health advocacy and human rights issues.
Cool Nail Packaging: New CID Cosmetics introduced the new i - polish featuring a built-in light, making it perfect for application anytime, anywhere. i – polish is free from ingredients found in traditional nail polishes, such as Formaldehyde, Toluene and Dibutyl Phthalate (DBP).
A gel system for home use—with all the bells and whistles: Orly launched Smart Gels, an at-home gel Starter Kit (currently available Ulta and Sally Beauty stores). Each Kit includes a nail tip primer, base and top coat, cuticle oil, cleanser, remover and tools; it will sell for $59.50. A Smart LED Lamp (about the size of cell phone) is sold separately and will retail for $195. Gel nail colors, 12 shades in total, will also ship to stores, and will sell for $9.95 each.
SKIN TRENDS:
DIY skin analysis lens: One of the most talked about exhibitors at the show was Beautécam, a lens that attaches to a smart phone camera, takes a picture of your skin and analyzes it. The other components offered by Beautécam, which is based in Kyoto, Japan, are the social media and branding options. For example, a brand can market the skin analysis component by recommending its own products as a solution to any detected skin problems. Kaori Nagao of Beautécam said at least one global beauty firm is exploring buying the technology, and that Toyota is using the lens to target women for the launch of a new UV shield on 2013 car windows (Beautecam.com).
Also popular in skin was Goldfaden MD, which is being positioned as a natural derm line, with a product called the Needle-less Serum for wrinkles and fine lines. Another eye-catching brand was EyeSlices, re-usable cooling eye gels. Four different SKUs target different skin care needs. These dermal delivery eye masks provide an instant cooling sensation and quickly reduce the appearance of red eyes, dark circles, tired eyes, wrinkles and puffy eyes. The innovative reusable eye treatment pads combine the natural essence of nature with bio-innovation for an all-in-one solution to common eye concerns.
Bella Simplice has the alternative to injectable fillers such as Botox.  Bella Simplice launched seven new miracle anti-aging masks that give that immediate lift. These masks improve deep wrinkles with a moisture saturation level of 92% in five minutes. It is also used to help cancer and burn victims with traumatic skin injuries.
Exotic Ingredients - Many skin care brands are introducing exotic blends of skin repairing oils with interesting ingredients to satisfy the need of multi-purpose serums and / or moisturizers.
Bee Venom: Manuka Doctor is the first skincare line infused with purified bee venom. This unique process provides a refined and concentrated source that can be used as a powerful natural ingredient in their products. With purification, the active components become concentrated. As such, with the potency of Purified Bee Venom you only need a very small amount. Purified Bee Venom has a cumulative effect with results building up over a period of continual use. Marula Oil, Tamanu Oil and Baobab Oil nips at the heels of Argan Oil, these natural emollient oils boasts anti-oxidant properties while adding luster to dull, dry skin.

BEAUTY OILS
Argan Oil is still a popular ingredient in many beauty products. Beauty Oils seem to be a driving force in skincare – because of their healing and restoritive properties. Marula- The Leakey Collection has a unique blend of omega fatty acids that makes it an ideal moisturizer. By uniting sophisticated global consumers with talented Fair Trade producers The Leakey Collection is dedicated to advancing opportunities for women in rural East Africa.  Shea Terra Organics also aids co-ops in Africa and introduced their mini holiday Argan Oil Beauty Kit with 3 nourishing oils for face and body, all infused with Argan and other unique ingredients indigenous of Africa. Niki Saint Pierre Botanical Cosmeceuticals also launched their intense overnight therapy anti-aging collection.

BEAUTY TATTOOS / LASH TEXTURE & VOLUME
Temporary Tattoo Alert: Violent Lips had a crowd by its booth the entire run of Cosmoprof. The company, which makes temporary lip transfers (in Glitterati, animal prints, florals and fishnet patterns) is sold in Sephora, and launching Violent Eyes this month with glitter transfers in cat eye shapes. Violent Lips has also launched a mass version, Bella by Violent Lips, named after firm president, Jeff Haddad's, 15-year-old daughter, Isabella, who actually was the brainchild behind the glitter lip-tattoos. Nail tattoos, press-ons and decals were also all the rage for quick (and disposable) nail art.
Look At Me Lashes: Fiberwig is known in Japan as the "instant eyelash extensions in a tube." Fiberwig is engineered to create the perfect lashes with twice the amount of micro-fine interconnection fibers. In addition, the long-lasting film coat around your natural lashes never smudges and can be easily removed with water. Beauty Addicts also launched Show-Off Mascara, a unique formula that blends Argan oil to condition lashes while pumping up the volume. Lash Extensions continue to be a lucrative service at salons and spas; and are not relegated to your standard lash. The lashes range from different colors, neons, etc.  Along with colorful lashes couples bright liners that are water resistant – jewel tone hues are hot for Fall and Holiday!
HAIR TRENDS:
Hair smoothing remains on trend: Several hair smoothing options stood out from the dozens on offer at Cosmoprof, including Bio Ionic's Agave Healing Oil Treatment, which uses an amino acid complex-based Carbo-C proprietary formula, designed to last about 12 weeks. Keratin Complex has received OSHA compliance for all of their formulas, said Lisa Loria, director of marketing. And Cadiveu, the South American-based, original maker of Brazilian Blowout is launching its latest version of a smoothing treatment, SupraLiss, which the firm said is "free of all aldehydes." SupraLiss is more technical, needs more time than the original and last longer and leaves more shine. INOAR Professional also presented keratin treatments, which have been formulated according to hair type

HAIR TEXTURE TREATMENTS
Quick fix to thinning hair: Powder hair fillers—to hide bald spots and to fill in where hair thins—were popular at Cosmoprof, namely at FHI, where their Hair Veil applies to the scalp to make hair appear fuller. SureThik is a full treatment company specializing in therapeutic hair loss transplants, laser hair therapy and baldness. SureThik launches three new products, Organic Hair Building Fibers, Boost and Lift. Ván Tibolli Beauty represents modern glam, sex appeal and sophistication in a bottle. The secret to Tibolli products is Trioxxy, a synergy of keratin proteins that replenishes hair from the inside out, using Hydra Delivery System.

TOOLS
Barrel irons are the new curling irons: Heating appliances were everywhere at Cosmoprof. Especially popular were barrel irons—curling irons without the clamp—by Amika and Keratin Complex . Barrel irons eliminate the ridge that often forms when using a curling iron. Innovations in flat irons were seen, such as with hairstylist Jose Eber's new glass-plated flat iron, GlassTech, ($149), which utilizes infrared tube lighting to heat the plates. The glass plates are non-porous, unlike ceramic plates, preserving hair moisture and making it safer to eliminate frizz, breakage and cuticle damage, the company said. Jose Eber is also launching a conditioning iron, Therapy Rx Moisture Boosting Tool, which uses high frequency, ultrasonic vibration to break conditioners and oils to molecule size particles to ensure maximum penetration into open hair follicles. It will sell for $199. 


[Images courtesy of Y Public Relations]
Related:  Cosmoprof North America Named in 50 Fastest-Growing Trade Shows  |  OPI Celebrates Minnie Mouse at NYFW  |  3 Hottest Nail Design Looks for Fall  |  Prevent Your Cell Phone from Causing Breakouts  |  Fall Makeup Trends VIDEO: Red Lipstick Is Your Friend  |  Wella Professionals Unveils Illumina Color  |  Top New York Fashion Week Hair Styles