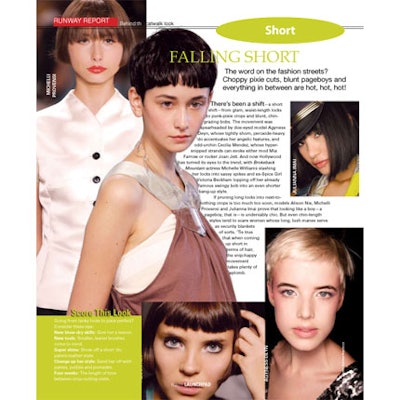 The word on the fashion streets?  Choppy pixie cuts, blunt pageboys and everything in between are hot, hot, hot!
There's been a shift—a short shift—from glam, waist-length locks to punk-pixie crops and blunt, chin-grazing bobs. The movement was spearheaded by doe-eyed model Agyness Deyn, whose tightly shorn, peroxide-heavy 'do accentuates her angelic features, and odd-urchin Cecilia Mendez, whose hyper- snipped strands can evoke either mod Mia Farrow or rocker Joan Jett. And now Hollywood has turned its eyes to the trend, with Brokeback Mountain actress Michelle Williams slashing her locks into sassy spikes and ex-Spice Girl Victoria Beckham lopping off her already famous swingy bob into an even shorter bang-up style.
If pruning long locks into next-to-nothing crops is too much too soon, models Alison Nix, Michelli Provensi and Julianna Imai prove that looking like a boy—a pageboy, that is—is undeniably chic. But even chin-length  styles tend to scare women whose long, lush manes serve as security blankets of sorts. 'Tis true that when coming up short in terms of hair, the snip-happy movement takes plenty of aplomb.
Score This Look
Going from lanky locks to pixie perfect? Consider these tips:
New blow-dry skills: Give her a lesson.
New tools: Smaller, leaner brushes come to mind.
Super shine: Show off a short 'do, patent-leather style.
Change up her style: Send her off with pastes, putties and pomades.
Four weeks: The length of time between crop-cutting visits.