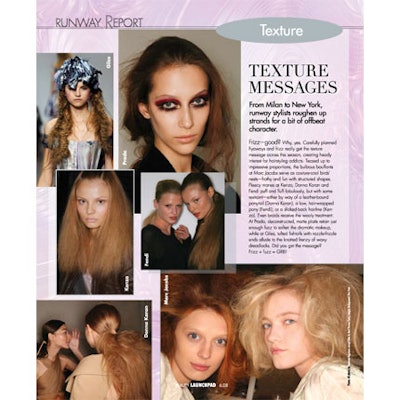 From Milan to New York, runway stylists roughen strands for a bit of offbeat character.
Frizz—good? Why, yes. Carefully planned flyaways and frizz really get the texture message across this season, creating heady interest for hairstyling addicts.
Teased up to impressive proportions, the bulbous bouffants of Marc Jacobs serve as couture-cool birds' nests—frothy and fun with structured shapes. Freecy manes at Kenzo, Donna Karan and Fendi puff and fluff fabulously, but with some restraint—either by way of a leather-bound ponytail (Donna Karan); a low, hair-wrapped pony (Fendi); or a slicked-back hailine (Kenzo).
Even braids receive the wooly treatment: At Prada, deconstructed, matte plaitsretain just enough fuzz to soften the dramatic makeup, while at giles, tufted fishtails with razzle-frazzle ends allude to the knotted frnzy of waxy dreadlocks? 
Did you get the message?  Frizz + fruzz = GR8!