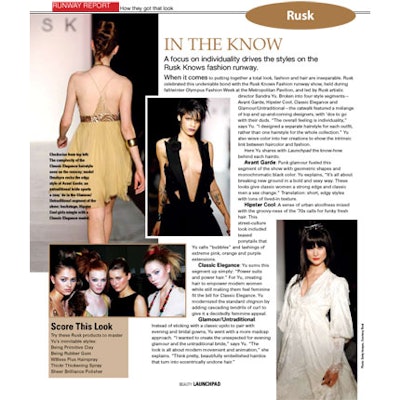 A focus on individuality drives the styles on the Rusk Knows fashion runway.
When it comes to putting together a total look, fashion and hair are inseparable. Rusk celebrated this undeniable bond with the Rusk Knows Fashion runway show, held during fall/winter Olympus Fashion Week at the Metropolitan Pavilion, and led by Rusk artistic director Sandra Yu.
Broken into four style segments— Avant Garde, Hipster Cool, Classic Elegance and Glamour/Untraditional—the catwalk featured a mélange of top and up-and-coming designers, with 'dos to go with their duds.
"The overall feeling is individuality," says Yu. "I designed a separate hairstyle for each outfit, rather than one hairstyle for the whole collection." Yu also wove color into her creations to show the intrinsic link between haircolor and fashion.
Here Yu shares with Launchpad the know-how behind each hairdo:
Avant Garde: Punk glamour fueled this segment of the show with geometric shapes and monochromatic black color. Yu explains, "It's all about breaking new ground in a bold and sexy way. These looks give classic women a strong edge and classic men a sex change." Translation: short, edgy styles with tons of lived-in texture.
Hipster Cool: A sense of urban aloofness mixed with the groovy-ness of the '70s calls for funky fresh hair. This street-culture look included teased ponytails that Yu calls "bubbles" and lashings of extreme pink, orange and purple extensions.
Classic Elegance: Yu sums this segment up simply: "Power suits and power hair." For Yu, creating hair to empower modern women while still making them feel feminine fit the bill for classic Elegance. Yu modernized the standard chignon by adding cascading tendrils of curl to give it a decidedly feminine appeal.
Glamour/Untraditional: Instead of sticking with a classic updo to pair with evening and bridal gowns, Yu went with a more madcap approach. "I wanted to create the unexpected for evening glamour and the untraditional bride," says Yu. "The look is all about modern movement and animation," she explains. "Think pretty, beautifully embellished hairdos that turn into eccentrically undone hair."
Score This Look
Try these Rusk products to master Yu's inimitable styles:
Being Primitive Clay
Being Rubber Gum
W8less Plus Hairspray
Thickr Thickening Spray
Sheer Brilliance Polisher