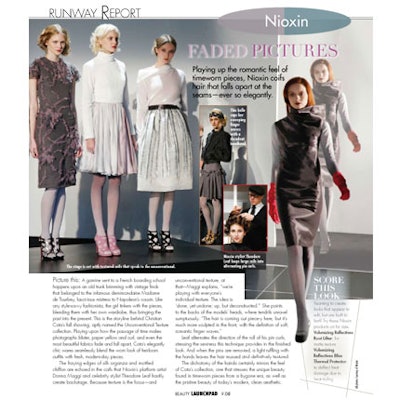 Playing up the romantic feel of  timeworn pieces, Nioxin coifs hair that falls apart at the seams—ever so elegantly.
Designer: Christian Cota
Products: Nioxin
Picture this: a gamine sent to a French boarding school happens upon an old trunk brimming with vintage finds that belonged to the infamous demimondaine Madame de Tourbey, lascivious mistress to Napoleon's cousin. Like any style-savvy fashionista, the girl tinkers with the pieces, blending them with her own wardrobe, thus bringing the past into the present. this is the storyline behind Christian Cota's fall showing, aptly named the unconventional texture collection. Playing upon how the passage of time makes photographs blister, paper yellow and curl, and even the most beautiful fabrics fade and fall apart, Cota's elegantly chic wares seamlessly blend the worn look of heirloom outfits with fresh, modern-day pieces.
The fraying edges of silk organza and mottled chiffon are echoed in the coifs that nioxin's platform artist Donna Maggi and celebrity stylist theodore Leaf hastily create backstage. Because texture is the focus—and unconventional texture, at that—Maggi explains, "we're playing with everyone's individual texture. the idea is 'done, yet undone; up, but deconstructed.'" She points to the backs of the models' heads, where tendrils unravel sumptuously. "the hair is coming out piece-y here, but it's much more sculpted in the front, with the definition of soft, romantic finger waves."
Leaf alternates the direction of the roll of his pin curls, stressing the sexiness this technique provides in the finished look. and when the pins are removed, a light ruffling with the hands leaves the hair mussed and definitively textured. The dichotomy of the hairdo certainly mirrors the feel of Cota's collection, one that stresses the unique beauty found in timeworn pieces from a bygone era, as well as the pristine beauty of today's modern, clean aesthetic.
Score This Look
Yearning to create looks that appear to wilt, but are built to last? Try these Nioxin products on for size.
Volumizing Reflectives Root Lifter: for matte texture
Volumizing  Reflectives Bliss Thermal Protector: to deflect heat  damage due to  heat-styling