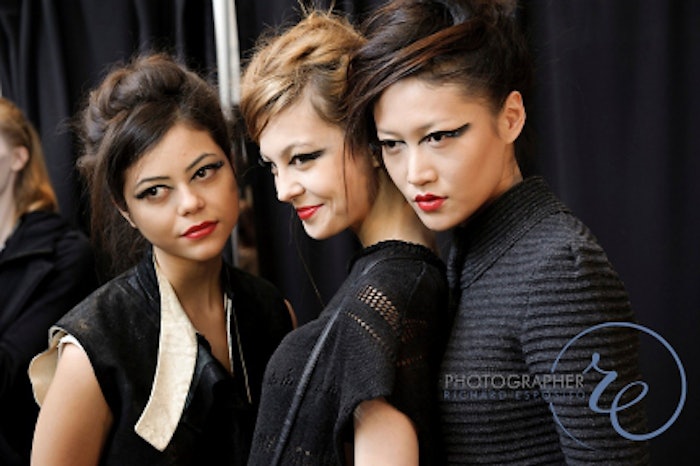 The Phoenix bursting into a ball of fire only to rise from its ashes has always held a place in designers' hearts—perhaps because it symbolizes rebirth, renewal and, therefore immortality. It's a popular inciter of ideas, and plays that role for designer Toni Francesc's Fall 2011 showing. The accompanying beauty aptly follows suit, with eyes enveloped in a wide wingspan of black liner and straight, thick faux lashes. Key makeup artist Jackie Mgido dreams up the avian allure, using Mehron products.
"For the eyes, we wanted to create a dramatic look that also represented the bird," says Mgido. "I used Mehron Feather E.Y.E Lashes to create this look, along with Black Onyx E.Y.E Powder and Slate Grey E.Y.E Cream blended on the lid to represent the ashes."  Mgido further defines the wing-like shape using Mehron Black Detailz liner.
To mimic the flames of the Phoenix, Mgido created a custom blood red lip color that blended Mehron Velvet Rose and Raspberry L.I.P Cream topped with a Clear Glosstone for a touch of sheen.
The strength of the eyes and mouth feel grounded by flawless matte skin with lightly contoured cheeks—a trend that seems to have plenty of steam for this coming fall.
(Photos: Courtesy of Richard Esposito for Mehron)