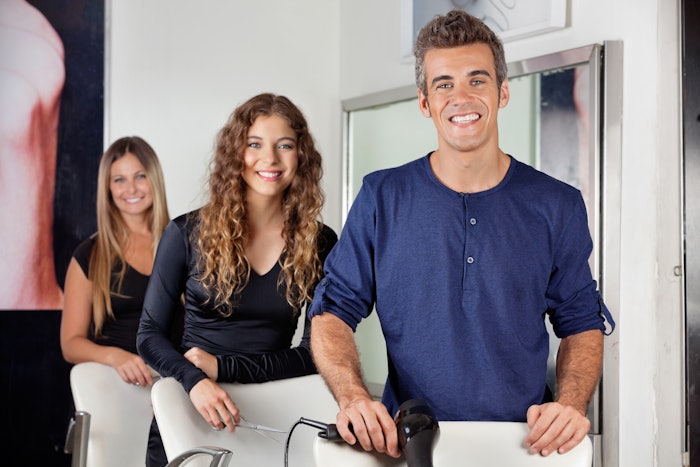 Historically the beauty industry has not been perceived as a high-value profession (even though salon services are considered a necessity for many people). From first haircuts to the first day of school, to proms, weddings and beyond, guests form a personal bond with stylists. However, when it comes to choosing a career path, those who tell loved ones that they want to be a hairstylist or salon owner often find their news is not met with abundant excitement or encouragement. Why is that? Perhaps people see hairstyling as something you "play" at until a traditional career path comes to light? How can we, as mentors and leaders, change that mindset?
How can we shift the perception of our industry to one of credibility and opportunity? How do we quell a parent's apprehension regarding their child's ability to achieve long-term success if they chose the beauty industry? Words are not enough. We must be able to show what a big part of the community beauty professionals can become—how we add value and create demand for our services. We must demonstrate how we built upon our own cosmetology education, layering on studies in culture, branding and financials to ensure personal and professional success.
It's a big job, shifting mindsets, and changing how future stylists see themselves. Before we can begin to shift any "not-so- great" perceptions of the industry, we must commit to our own inward shift, and put in place actionable programs to inspire the next generation of beauty professionals.
Below are three strategic steps that every salon owner should employ if they want to be the change they envision for the industry.
1. STUDENT OUTREACH: Start by going to schools and speaking with students to share your story. Ensure them that they have made a smart choice by pursuing a career in beauty. Show them how to look at the industry from a business point of view; prioritize education, self-worth and professionalism. Create extension classes that give students a look inside the real workings of the industry. Get them excited and confident in their decision! Note: It is also important to share information with their guidance counselors and instructors. Once they know the benefits of what you have to offer, they can better inform their students of opportunities that lie ahead.

2. NEW HIRE ORIENTATION: When a recent graduate is hired in our salon, we enroll them in a rigorous career training program to ensure they have the proper tools to advance their career. A good training program should assist new hires in determining goals, verbalizing their dreams and identifying their strengths and core values—all of which will help address personal development and professional growth. 
3. SUPPORT SYSTEMS: Once a new stylist understands the importance of goal setting and personal development, we begin to move outward, expanding this insight to include their personal circle of influencers. Family and friends are invited into the salon for a special "insider experience" which, for us, includes sharing our brand story, our systems, our culture and our success. New hire vision boards are key visual aids, and we assure guests that our goal is to have every new hire achieve their vision! I've found that some families are so impressed they help instill accountability, ensuring stylists arrive to work on time and attend continuing education classes. As advocates for loved ones, family and friends can help build career confidence just by showing appreciation and pride. 
When all three steps are deployed, you will see a shift truly begin to take flight. Why? Because it's all about getting people to know what we already know! The beauty industry is no different than any other profession. It requires a tremendous amount of know-how, hours of training and a good amount of creative inspiration and drive. Successes achieved should be celebrated with confidence and pride; well-deserved recognition is the ultimate reward.
It takes a village to shift the mindset from "Oh, I just do hair" to "I am in the BUSINESS of beauty, and I am always in demand.…and, oh, by the way, I just raised my prices because my skills are worth it."
So, what are you waiting for? Let's get started!