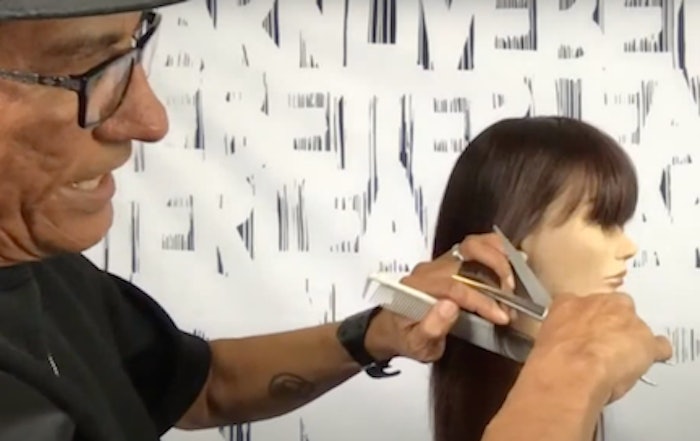 Sam Villa, co-founder and CEO of Sam Villa and global artistic ambassador for Redken, has discovered simple tweaks to give guests the look they desire in half the time. 
"The salon world has changed, and we need to change with it by cross-selling and offering new express services that fill specific needs, like a dusting to maintain layers, micro trims to freshen ends and volume-enhancing amenities," said Villa.
Check out Villa's Cutting Tutorial:
Layers- offer an express service to remove split ends.
Weave a section of hair under the pointer, over the middle and under the ring finger, bend fingers and pull section taught.
Slide fingers down the hair shaft with the guide blade of the Sam Villa Signature Series Dry Cutting Shear 7" resting on the pointer and open and close shears to snip all the split ends that pop up as hands slide down the section.
 Quick Trim- a simple dusting to create a lived-in edge with an oval shape.
Section back hair down the middle.
Comb diagonally forward in front of the shoulder to create an oval perimeter shape and add graduation.
Place the comb horizontally to desired cutting line and cross hatch the ends.
Release, section will fall short to long with a shattered edge.
 Fringe- transition blunt bangs to longer layers that fall to the side with less weight when a guest is choosing to grow out fringe.
Determine part.
Take a diagonal forward section and backstroke with a Sam Villa Signature Series Reversible Blending Shear to create a nice soft line.
 Face Framing Angled Layers- sculpt a smooth visual blend around the face.
Apply Redken One United to dry hair around the face to add slip and control.
Take a diagonal back side section and use dry cutting clips to pin back the rest of the hair.
Comb hair into natural fall.
With a horizontal finger angle, insert the Sam Villa Artist Services Slide Cutting Shear 6" under fingers and use the pointer finger to push shears down to slide cut just the edge of the section to create a subtle angled frame.
 Volume – create froth at the crown while maintaining length.
Section hair at the crown, pin top layer aside.
Weave the guiding blade of a Sam Villa Signature Series Dry Cutting Swivel Shear 7" into a horizontal section and back cut.
Unclip top layer and release over back cut section for hidden volume.