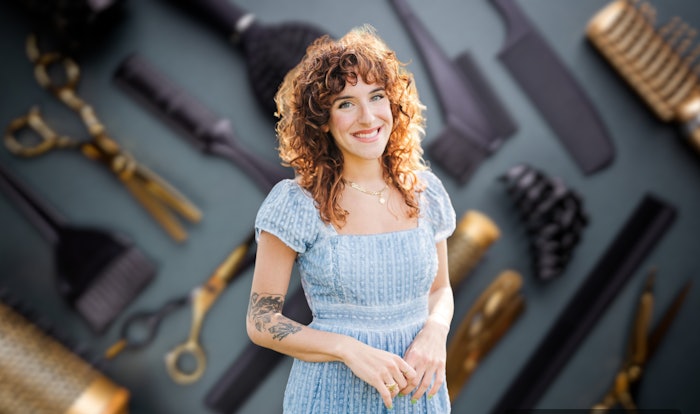 Courtesy of Victoria Schrager
Today, you will get to know Victoria Schrager (@victoria.hairart). She is a studio owner and haircut specialist at Victoria Hair Artistry with locations in Long Island and New York City.
Q&A: 
Beauty Launchpad (BLP): What is a fun fact about you?
Victoria Schrager (VS):  I was a competitive dancer for my entire life before I dove into the hair industry with dreams of becoming a Rockette.
BLP: How did you get your start in the industry?
VS: I originally wanted to become a makeup artist, but my mom pushed me to get my cosmetology license so I would always have more options. After attending ARROJO Cosmetology school in SoHo, I fell head over heels in love with sculpting hair. 
BLP: What is your current favorite hairstyle trend?
VS: My favorite hairstyle trend is when people embrace their natural texture in super low maintenance shapes.
BLP: What is a tip you have for your fellow stylists who are looking to grow their following on socials?
VS: Stay true to what you love, and think of your Instagram page like a portfolio. Post things that you are proud of that you love instead of following trends.
BLP: What is a piece of advice about styling/working with hair that you have for your fellow stylists?
VS: A majority of my clients love to air dry their hair, myself included. I always recommend figuring out what your hair is lacking and add products to your routine accordingly to keep it minimal yet effective.
BLP: What do you love about your work?
VS: I love enhancing peoples' features and giving people confidence. I love creating a shape that makes sense and will look special with any way my clients wear their hair, whether it's freshly air dried, blown out or bed head.
BLP: What inspires your work?
VS: My work is inspired by my clients and their lifestyles. I never want to create more steps or fight what their hair wants to do, only celebrate it.
BLP: What motivates you about the industry?
VS: I love how this industry is taking a turn for community over competition. It is so inspiring hearing the way the artists I look up to approach different styles and techniques and even sharing my own with those who are interested. 
BLP: What is a career goal you have for yourself?
VS: One of my biggest goals is to open my own salon space and become a traveling educator to help other haircutters step outside of their comfort zone. 
You can learn more about each of our winners in our September/October 2023 digital magazine.