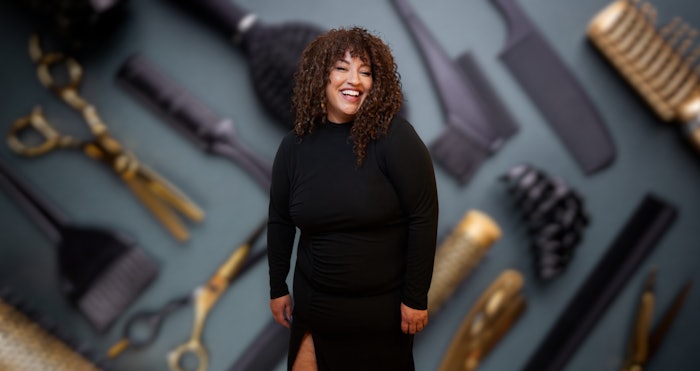 Courtesy of Paula Peralta
Today, you will get to know Paula Peralta (@thepaulaperalta). She is an artistic director and brand partner at The Salon by Paula Peralta in Los Angeles, CA.
Q&A: 
Beauty Launchpad (BLP): What is a fun fact about you? 
Paula Peralta (PP): I am obsessed with urban farming. Every time I harvest a vegetable is basically the happiest day of my life. It never gets old! Check out my zucchini video on IG for the chaos that a harvest! 
BLP: How did you get your start in the industry?
PP: I was laid off from my job and had a friend that was a hairdresser who was having so much fun and making a lot of money. She said, "You should think about going to hair school! You would be so perfect." I enrolled in Paul Mitchell the School, went on to assist award winning artist and stylist Lucie Doughty, graduated, started working behind the chair in Los Angeles and became a Paul Mitchell Educator. It's been a whirlwind ever since! 
BLP: What is your proudest accomplishment?
PP: I am proud to have developed a voice and a platform that allows me to mentor and elevate others so their talent is in the spotlight and they're able to see possibilities they hadn't considered before. Oh also, the Met Gala was a big moment too!
BLP: What is your current favorite hairstyle trend? 
PP: I am still a big fan of the curly shag but '90s block color is a close second.
BLP: What is a tip you have for your fellow stylists who are looking to grow their following on socials?
PP: Find artists you admire that are doing it well and resonate with you — hairstylists AND non-hairstylists. Initially your content may mirror them, but the more you create, the more your unique style will develop. Also, ENGAGE! It's called social media for a reason. Don't just doom scroll – like, comment and share content that you enjoy and that inspires you!
BLP: What is a piece of advice about styling/working with hair that you have for your fellow stylists? 
PP: Relax, and don't fight the hair. You'll never win the battle. When you work WITH the hair, you significantly increase your chances of a beautiful result.
BLP: What do you love about your work? 
PP: The people — salon clients, fellow educators and the people that support the beauty industry. My salon clients are some of my favorite people in the world. I love the relationships we have built and getting to witness major moments in their life and celebrating it in the salon chair! Also, travel! I wanted to study International Business in college because I wanted to travel the world. I never in a million years thought my world traveling would be because of being a hairstylist! 
BLP: What inspires your work? 
PP: I am so inspired by the unique magic of every individual. It is my honor to find the look that best celebrates that! Besides that, I am constantly looking at classic and modern art to train my eye on things like balance and proportion. It's rarely a literal connection, but it has helped me develop strong instincts for cuts, colors and styles that truly compliment the people wearing them.
BLP: What motivates you about the industry? 
PP: The innovation and creativity! There's always something new to learn, an old technique done differently or even new technology that makes us better, faster and stronger! You can never stop learning! 
BLP: What is a career goal you have for yourself? 
PP: I am committed to sharing more curly hair education. I would love to see every hairdresser have proficiency working with all textures and formations. I'm also planning a global education tour in the next year! 
You can learn more about each of our winners in our September/October 2023 digital magazine.