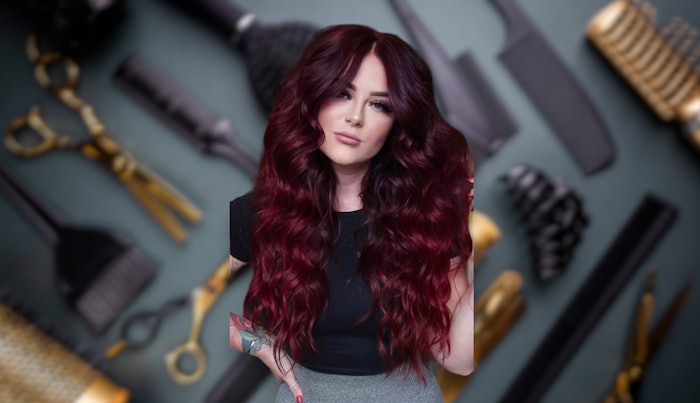 Courtesy of Melea Krabach
Today, you will get to know Melea Krabach (@melea.k.hair). She is an independent stylist based in Colorado Springs.
Q&A:
Beauty Launchpad (BLP): What is a fun fact about you?
Melea Krabach (MK): I have three black pittie mixes we call the Panther Pack, and they are my whole life.
BLP: How did you get your start in the industry?
MK: I got started in this industry right out of high school because I wanted a career where I could be creative and help people feel good about themselves. 
BLP: What is your proudest accomplishment? 
MK: My proudest accomplishment as a hairstylist is being able to boost confidence by creating daily art, which has also garnered me multiple nominations and awards. I'm also proud of having built my own business by combining creativity, dedication and working with amazing companies for continuous growth.
BLP: What is your current favorite hairstyle trend? 
MK: My favorite trend by far is that brunettes and warmth are back!
BLP: What is a tip you have for your fellow stylists who are looking to grow their following on socials? 
MK: Consistency is key! Keep pushing through! 
BLP: What is a piece of advice about styling/working with hair that you have for your fellow stylists? 
MK: Keep seeking education, and take as much of it as you can! Education and new knowledge are a lifelong catalyst for personal and professional improvement. 
BLP: What do you love about your work?
MK: Doing hair is my passion, and I get to do it daily. It allows me to travel to new places, collaborate with companies and, most importantly, connect with my guests on a personal level while helping boost their confidence in themselves. 
BLP: What inspires your work? 
MK: I'm inspired by so many things, from nature to my fellow stylists in the industry and the constant opportunity to create transformations that empower my guests. 
BLP: What motivates you about the industry? 
MK: There are no boundaries to what you can do and achieve! The sky's the limit! 
BLP: What is a career goal you have for yourself? 
MK: A career goal I have for myself is to continue to evolve, ultimately getting into educating so I can help the industry grow, along with the stylists in it. 
You can learn more about each of our winners in our September/October 2023 digital magazine.