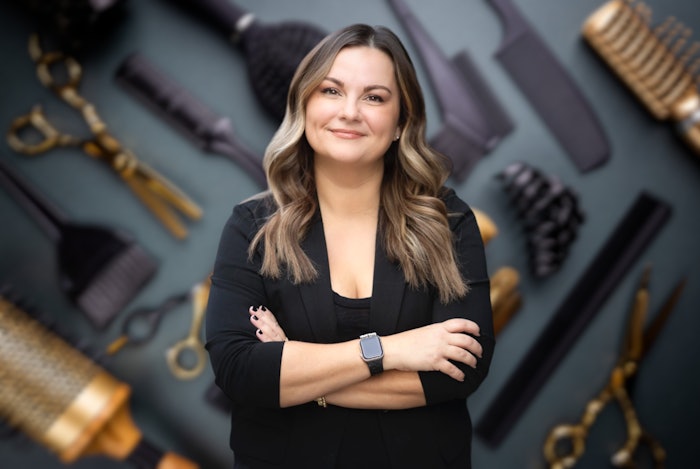 Courtesy of Lisa Tucker
Today, you will get to know Lisa Tucker (@rootedwithlisa). She is a hairstylist and independent educator at Rooted with Lisa in Plymouth, Michigan.
Q&A: 
Beauty Launchpad (BLP): What is a fun fact about you?
Lisa Tucker (LT): Before I decided to become a hairstylist, I originally went to college to become a French teacher!
BLP: How did you get your start in the industry? 
LT: When I was in college, I got a job as a  receptionist in a salon and completely fell in love with the industry. I started an apprenticeship a few months later, and the rest is history! 
BLP: What is your proudest accomplishment?
LT: My proudest accomplishment is the business I have built. I have worked very hard to cultivate every aspect of my business. Client relationships have always been very important to me because, without them, I wouldn't be where I am today. Having a strong foundation behind the chair has allowed me to expand my business into independent education and content creation.
BLP: What is your current favorite hairstyle trend? 
LT: My favorite hair trend is fringe and lots of layers! When more movement is created in the hair, it makes it easier to showcase the dimensional color techniques that I offer. 
BLP: What is a tip you have for your fellow stylists who are looking to grow their following on socials?
LT: My biggest tip for socials is to be 100% authentic and only post what you want to attract in your business. If you are a color specialist, post tons of color! Plan content days into your schedule, so you can build a portfolio of images to post. Show your face as much as you can so your followers can see the person creating all of that magic. We are in the relationship business, and you need to be front and center representing your  brand. 
BLP: What is a piece of advice about styling/working with hair that you have for your fellow  stylists? 
LT: Always respect the integrity of your client's hair! It has a mind of its own – pushing it beyond its boundaries with heat or chemicals will compromise it. Clear client  communication in this area is also important. Talking them through the process builds trust! 
BLP: What do you love about your work? 
LT: I love that my work captures the natural beauty of the hair. I take the time to create a unique look for all of my guests. They leave looking and feeling like a million dollars.
BLP: What inspires your work? 
LT: I take inspiration from current fashion trends, the colors in nature and even the food I eat. I have always been a creative – My mind never stops moving. 
BLP: What motivates you about the industry? 
LT: I am highly motivated by the creativity of and collaboration with other professionals. I try to surround myself with like-minded individuals who have big goals. Their passion constantly amazes me, and I fall in love with our industry more and more each day. 
BLP: What is a career goal you have for yourself? 
LT: I want to be an integral part of the constant evolution and elevation of the beauty industry. I want to reach as many people as I can in hopes of teaching and inspiring them. A big goal of mine is to have my own educational platform that reaches everyone in the industry. 
You can learn more about each of our winners in our September/October 2023 digital magazine.