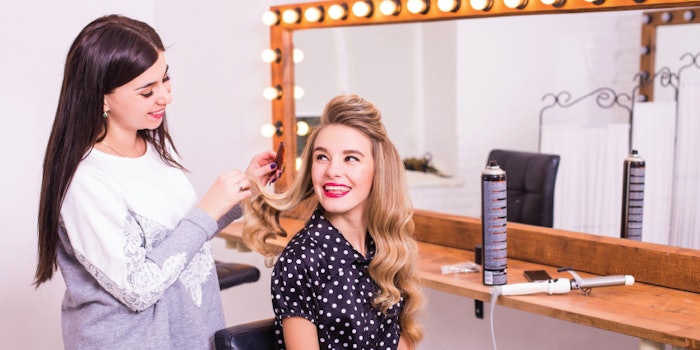 Nikola Cline, founder and president of brand strategy and marketing agency Brandettes, discusses brand experience and how this impacts your salon.
As a salon owner, manager or stylist, you might think of your brand as the visual elements of your business—your logo, your colors, your website or the color of your stations. But branding isn't just visuals; it's all the parts of your business that blend together to create an enduring impression that lasts beyond your guests' visit. Your brand extends to how people experience your salon and services.
So, what exactly is brand experience and why does it matter? You could say that brand experience is client experience—it's the overall essence of how people look at your salon, how they feel while they are there, and perhaps most importantly, how they feel following their appointment. Every single touchpoint matters, especially that first impression. When clients have a less-than-stellar interaction with a business, especially a small business like a salon, it can be tough to retain guests and acquire new ones. In this industry word of mouth is everything, and one guest's poor experience can affect your overall growth.
That said, leaving your reputation to chance only leaves room for mishaps. To build a positive salon experience, you must be thoughtful of the customer journey. Ask yourself, "If I walked into my salon right now, would I leave feeling good about my experience and rave to my friends about it?" If you're not sure where to start an evaluation, here are a few points of guest contact to review. These are what make up your brand experience and are critical in ensuring a positive reputation and growing client list.
[1] Build a sound communication system. The first touchpoint any guest will have (aside from word-of-mouth referrals) is the booking process. If you have a good communication system, clients will feel excited and ready for their appointment. However, if booking is confusing or bumpy in any way due to technology wait time or another factor, the opportunity to create a positive impression could be adversely affected.
[2] Remember details about your guest. Not everyone is good at keeping up with small details, but remembering little things about clients will make them feel welcomed and reinforce that you truly care about their experience in your chair. Whether you keep notes through a digital platform or a traditional notebook, being able to recall your clients' preferred color formula—or even the names of their children—makes them feel seen and valued.
[3] Harness the power of social media. Social media is a powerful tool, especially for salons. However, with such a social media-savvy world, simply posting without intention and going about your day won't cut it anymore. You must get creative about how you're using social media and focus on building connections. Social media is an extension of any business' customer experience, so boosting interactivity is key. This could look like:
Adding a selfie station for social posts (so guests can snap their own pictures and share with their friends).
Create special hashtags affiliated with your salon or brand to make posting more interesting (and so people can find you quicker than broad hashtags that have millions of posts).
Create seasonal or trend-based content to educate clients and help drive traffic.
[4] Focus on the small details. The little things matter. Even something as simple as adding your logo to capes, in a decal on your mirrors and on in-salon signage can have a huge impact when guests, or you, decide to post on social media. It's not an "in-your-face" strategy, but it's a subtle way to show off your brand and extend that experience throughout your location.
[5] Use creative merchandising to drive retail sales. Putting up displays on a shelf in the corner isn't going to grab the attention of your guests. Think about the last time you walked into a store, especially somewhere like Ulta or Sephora, and saw something that caught your eye. Questions to ask yourself include: Why did it do that? Was it the way it was displayed? Putting your own retail products on display in a fun, eye-catching way—especially during holidays—is a wonderful technique to boost sales. Pay attention to factors like lighting, organization and less-is-more propping to make your take-home area pop.
[6] Send branded thank-you cards to new clients. Mail isn't something most people receive anymore (aside from bills). Sending a little thank-you note or even a promotional/value-added gift for a future service is a fantastic way to show your appreciation for a new guest's business and to help them want to return. Emails could also work, but that small, thoughtful touch of an actual piece of mail goes above and beyond. Clients know you have to take extra time to send real mail (whereas an email can be automated and sent instantaneously). Plus, ordering branded cards is relatively cost-efficient and easy to order in bulk from online printers. If this sounds like something you want to incorporate into your business, go ahead and build it into your marketing budget for the upcoming year. It sounds old school, but IRL touches in an increasingly digital landscape can generate seriously feel-good, meaningful moments.
The bottom line: Personal experience is everything. In this industry, we can't afford to lose personal connections. They are the bread and butter of our business (aside from quality service). You could be the best stylist in your area, but if you don't have a solid brand experience and welcoming touchpoints with your clients, you won't be able to attract the guests your skill truly deserves. Think about how you can provide a memorable brand experience, and watch the guests continue to come in—and come back.