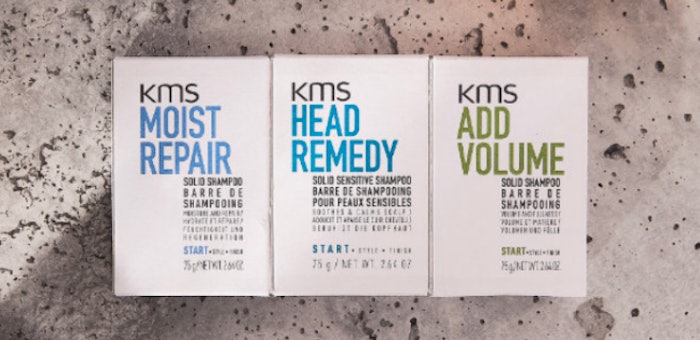 We've all asked the question: Is "going green" really going to benefit my business? The answer is a clear "yes." With so many new green innovations available to salon owners and stylists, there has never been a better time to pivot to more sustainable ways of operating. You can start small by focusing on recycling and choosing reusables throughout your salon. Or you can go big, transforming your environmental footprint and your operating costs by investing in energy-efficient lighting, cooling, flooring and more.
Increasingly, it's important to think beyond energy and carbon in your sustainability plan. Water conservation is becoming more and more vital to the green equation, so it's crucial to look for products and solutions that conserve water both during manufacturing and at the time you use them. Products like the new solid shampoos that are coming out directly address this issue and more. The new line of KMS Shampoo Bars, for example, eliminates all plastic packaging and the bars are highly concentrated to save water during production and reduce fuel consumption during transport. Use them with any leave-in conditioner, and you further reduce overall water consumption.
Here are three bottom-line ways green business can drive growth:
Brand benefits:

Surveys estimate that 2 out of 3 North American consumers prefer eco-friendly brands and 61% of consumers say companies should lead the way. Consumers are spending more time researching companies, and they tend to embrace and put more trust in companies who are demonstrably green. Bring real sustainability into your business practices and choices and you can use that message to attract more clients and increase loyalty. It's important, however, to avoid the perception of "greenwashing," which is why it's smart to work with partners like Green Circle, who can provide objective data on how your recycling impacts your carbon footprint, for example.

Cost savings:

Many environmentally sustainable products cost significantly less to use and pay for themselves over time. For example, energy-saving LED lighting options reduce electrical consumption. EcoHead showerheads and Scrummi disposable towels reduce water usage by up to 50%; and government incentives provide tax incentives or grants for businesses going green. Smart systems like the Goldwell color depot system not only use cans to reduce environmental impacts, they help stylists reduce wasted color because you can fully empty the can. Cans vs. tubes save 50% in residual product, use less energy to ship, and are far more efficient to use.

Employee satisfaction:

Just like your customers, your employees care about sustainability as well as health and safety on the job. At the same time, they want products that perform well and that are easy to use. The good news is that there are plenty of products that don't require a compromise. 
Those water-saving KMS shampoo bars, for example? They actually deliver the same professional performance as KMS liquid shampoos. They're also made from 75% or more natural ingredients and can be stored and transported in a reusable, recyclable aluminum keeper so they're not messy or sloppy to handle. 
When you make sustainability work in your employees' favor, you improve job satisfaction, loyalty, and retention. 
It's time to start exploring new ways of working that deliver environmental benefits, business benefits, and breakthrough performance. Your leadership will pay off in business growth and a healthier environment!