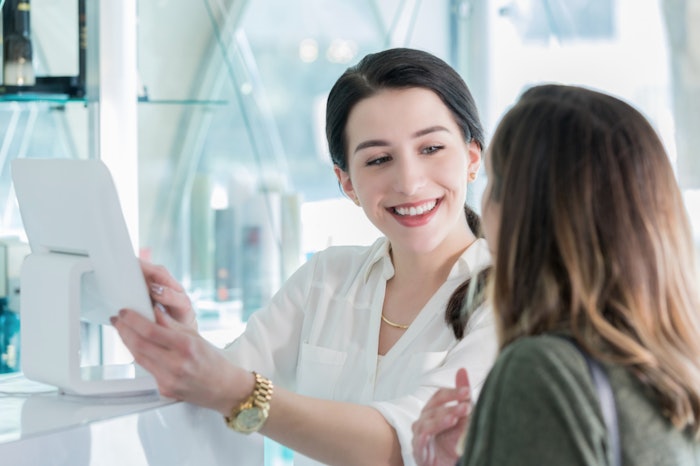 Client culture and tech-savvy expectations in a salon environment are changing faster than ever in this modern age, especially the way they want to do business with us and the way they want to be served. Staying innovative is vital for the success of your suite business. 
There is virtually every type of technology available to being a very efficient modern salon. Time saving programs, staying connected to clients, ease of operations, and all while saving money and enjoying a peaceful quality of life. Navigating through all these options, as a suite renter, can be daunting. 
POS and CRM software programs have been around for almost 30 years. Yet, today's advance in software design and ease of use has opened the door for everyone to benefit and learn quicker. In addition, with smartphone applications that integrate with tablet and desktop software, there is no limit to where you are in the world to run your business. This lowers operating costs for the salon owner in this niche salon suite setup. Suite friendly companies like

Gloss Genius and Salon Suites Solutions

can provide the service of a larger, conventional salon business software program for the single suite business at a lower cost, with high efficiency and profitability. If the salon suites company is linked with these programs, the salon suite renter can also manage their lease rents, property management and more.

Tired of dumping hard earned money down the drain? Save money by digitally tracking how much product is being used for each client. Some companies like

Salon Scale have developed software and equipment to track exactly how much color is being used for each service. Clics

has developed a color dispensing machine available to hair colorists.
One of the benefits of being in a salon suite is being able to provide a one-on-one experience with your client where they get your full and hopefully, undivided attention. However, with instant notifications of every breaking news by direct message and post, your attention can be always pulled from every direction if you do not manage it. Many companies can help you by offering automation, bots and customizable direct message auto replies for your social media accounts.

For those incoming calls, virtual receptionist services like

Ruby

are a great way to help your clients get the information they need if direct messages aren't their favorite way to communicate to you.

Real estate in your salon suite for displaying retail products is very limited. Also, supplying the inventory of products you want to offer your clients can be costly. A great alternative to providing the best quality products for your clients when they need it is to work together with your distributors. Many of them like Bassett Salon Solutions offer shipping direct to your clients and same day delivery to your salon as well salon rewards. You can also create online ecommerce stores with Salon Interactive that has a variety of distributors of your favorite product lines to offer touch-free shopping experience from their devices anytime while offering commissions to the salon pro.
And finally, the recent announcement of an Amazon hair salon coming to London this Spring. This new high-tech salon will come equipped with tablets at each station ready to superimpose virtual images of hairstyles and colors on clients to get a peek at what they would look like with those new styles. Many of you have these filter apps on your phones for fun. Well, this artificial intelligence technology will be put to work during the consultation portion of the client's visit too. What does this mean to you? If this catches on, clients will be expecting a similar experience, as well. Get ready!
Rosey Ibarra, is a celebrity stylist, American Board Certified Haircolorist, multiple salon owner, CA realtor, and the CEO/Founder of Social Salon Suites in Glendale, CA. As a salon industry veteran and business entrepreneur for over 28 years, Rosey is a strong advocate and passionate spokesperson on behalf of her peers. Inspired by her own profitable experience as a salon suites business leader, Rosey is dedicated to sharing her path to success to help others through education and advocacy. Her newest entrepreneurial endeavor, The Rosey Ibarra Co., is her direct way of guiding and reaching out to salon owners and stylists to 'level up' from business status quo to 'find their own suite spot of salon owner success'. You can reach Rosey at Rosey@SocialSalonSuites.com.