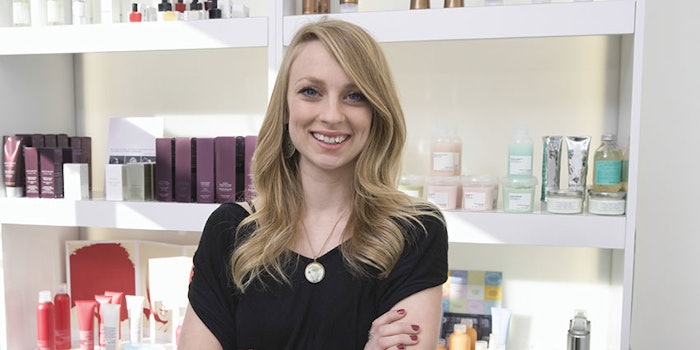 Everyone in the beauty industry knows that trends are everything. A salon's ability to stay on top of what's hot can mean the difference between success or failure in this hyper-competitive business. This not only applies to styling and color trends but goods and services, too—offering brand-new products is crucial to getting new clients in the door and maintaining your current ones. But how do you do that in a way that actually makes guests curious enough to try them out? Here, we present seven strategies to market your new offerings and help boost your revenue.
[1] Start with the right products and services. Knowing your clients and their specific needs is important to ensuring that your new rollout goes smoothly. Select offerings that cater to your clients' needs, wants and budget. On top of that, you want to make sure you're diligent in the selection process and choose products that are unique and easy to sell. Make sure you don't pad your retail displays with products that clients can easily obtain for cheaper elsewhere, such as a big box beauty store.
[2] Make it a "no pressure" pitch. Whether you're recommending styling products or new service offerings, avoid getting too aggressive when pushing new offerings. Applying too much pressure may turn off loyal guests. Here are a few strategies for properly pitching products to clients.
• Stylists and front desk staff can mention new products to clients in a casual way to those they think may be interested.
• Salon owners: Offer incentives to stylists who sell more products, but don't create a commission structure that's so competitive it makes stylists feel they need to push retail too hard.
• Place new products where clients can see them as they have their services done or wait in the reception area.
[3] Use products as a demonstration. Understand that people feel they know what works for them and may not be willing to spend money to try something that they don't know if they'll like. However, you can use services as a demonstration of new products so that clients can see how well they work. If you take clients through every step of the hairstyling process and show them the products used along the way, they're likely to see the benefits of each product and are more inclined to make a purchase.
[4] Promote, promote, promote! In addition to integrating new products into your services, make sure you're alerting customers about every new offering through a mix of modern and traditional marketing methods, depending on what tends to work best for your demographic.
• Create videos on social media showing the new product or service in action. Consider doing DIY and how-to videos for hair care products and focusing on process videos and before-and-after posts for new services.
• Tag the brand or promoter of the product or service in your videos, posts and stories. Often, these brands are looking for user-generated content to share on their own channels, which will help you establish yourself as an authority on the product or service.
• Send emails and text messages to clients who have signed up for your newsletter and inform them of all new offerings.
• If your clientele skews older or you're trying to attract new customers in the area, consider sending out mailers promoting your new service.
• Mention any incentives or promotions you're running to attract new clients when sending out emails, texts and social media blasts.
• Consider working with local influencers. Offer them your new products and services and ask them to post about it online.
[5] Know who to target. Remember that not all customers are a great fit for all products and services. Ideally, you will offer new options in your salon that cater to a wide audience, but you'll still need to know who is a good fit for particular products and who is not. Not only will targeting the wrong customers be a total waste of time, but it may also turn off clients and make them feel misunderstood.
[6] Offer an incentive for clients to try new offerings. People are much more likely to try something new if it's free or relatively affordable, so consider offering an incentive for clients to give the new product or service a try. Whether it be a percent off or completely free the first time, you'll be able to demonstrate the value of the offering without less or any risk to your client. Make sure to advertise the incentive when you promote the new offering.
[7] Ask clients to share their experiences. One solid way to introduce new items to a broader audience is to ask your current clients to recommend your services and products to friends and family. While happy guests are likely to share their experiences on their own, it helps if you offer an incentive for them to post a good review or share on their social media channels.
Ultimately, only you will be able to tell what specific tactics work for your salon and clientele. Make sure to keep a log of how effectively each strategy performs—that way, you'll learn what works best for your market and can start off on the right foot with the next new rollout.