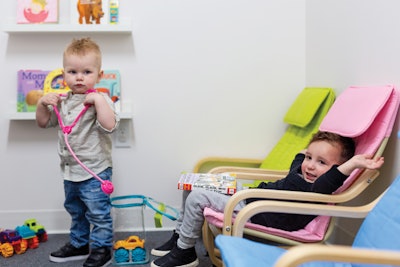 When sisters Hermine Abkarian, Rosie Nehme and Angela Kokchyan decided to open their salon, Mommy's Retreat, in Tarzana, California, the three recognized a void in the market: a lack of kid-friendly salons where moms can seek beautification while their children play supervised on site. From the get-go, their business plan included a playroom, paid childcare services and other kid-centric considerations. Most salons don't launch their businesses with children in mind, but that doesn't mean you can't introduce kid-focused elements to your existing model; in fact, doing so can yield many benefits. If you're considering taking in tykes, read on to learn the advantages and concerns, and get ideas for how to make the process seamless and welcoming for all.
A+ for Advantage
Cindy Feldman, owner of Progressions Salon Spa Store in North Bethesda, Maryland, always knew she wanted to take a child-friendly approach with her salon, and she quickly discovered a benefit of kid-generated business that continues to boost her profits to this day: loyalty. "Children are little people who need haircuts and grow up to be adults who continue to need haircuts," she says. "I love being able to expose them to great self-care from a young age." Such baked-in loyalty becomes generational in more ways than one. Thanks to the childcare area that Chris Lane Salon Spa in Loveland, Colorado, offers, co-owner Briana Syracuse says, "We have parents, aunts, uncles and grandparents bringing children in while getting their services. Along with our guarantee for a great service, they stay loyal to the salon because we're the only salon and spa around that provides the childcare they need during that time." Not to mention that salons offering childcare services (either free or for a nominal fee) help alleviate existing and potential clients' anxiety over finding a caretaker. "Providing this service puts parents at ease so that they can treat themselves to pampering without having to worry about getting a babysitter or asking their significant other to take care of the kids while they rush to the salon," says Abkarian. Taking the worry away translates to profits overall. "When you're a business that makes it easy for clients to do business with, you see the profits flow from that intention," notes Feldman.
Another added advantage: Should you choose to include children's haircuts, Feldman notes that doing so provides an incubator of sorts for newbie staff. "Being a kid-friendly salon and offering age-appropriate services allows our new talent to build their books and their confidence," she explains.
In Demand
e common thread among the pros interviewed for this story is that they're parents themselves, and they empathize with the need to find a salon that welcomes children. "We wanted to open up a salon that would make us different from other salons—designing a space where moms like us can go and not have to feel guilty about getting our hair or nails done," says Abkarian. To determine demand, she did a deep-dive on the internet to seek out competition—and found there wasn't any. If an online search doesn't turn up much info, scout local competitors to see if they offer such services, and look into your area's demographics and spending habits, such as household incomes, median house values, and the number and ages of children, to pinpoint need.
Oftentimes, surveying those around you will help you nail demand. Syracuse and co-owner Cori Thigpen both previously worked in childcare at a gym and witnessed firsthand how popular the service was—and how grateful gym-goers were for it. Even so, they both sought the opinions of family and friends with small children before bringing childcare into the salon. If clients come to your salon with children in tow, the demand is likely there. But don't just guess; ask them. Gauge their interest to see if kids' haircut services or a playroom appeals to them, and then proceed with the following ideas.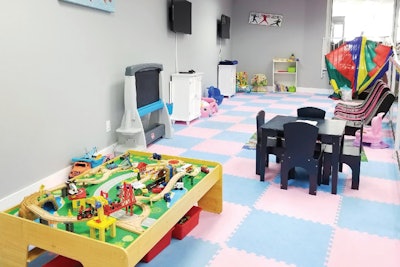 The Kids' Menu
Should you decide to add children's services to your menu, think about how you want to convey the services to your adult clients (since they'll be the ones reading the descriptions and ultimately paying for them). Unless your salon brand calls for it, there's no need to go overly cutesy with names, but do spell out what the service entails—especially if it's involved. "We host 'salon day' birthday parties for children, during which each child gets her hair styled and sparkled, as well as nails painted and minimal makeup applied," says Syracuse. Also included in the service: Kids get to craft their own lip gloss at a lip gloss station, followed by a runway show for the parents and finished with a private web page hosted on the salon's site where attendees can access photos and video of the runway show. e services you offer can also appeal to an underserved part of the parental community: those with autistic children. Syracuse and Thigpen are currently working on providing a "sensory-free day" held once a month at the salon where children on the autism spectrum can receive a haircut in a calming, sound- and stimulus-proof setting.
When it comes to pricing, kids' haircuts should be less expensive, according to Feldman, because they don't require as much time to preform. (She prices kids' cuts 50 percent less than starting haircut prices for adults.) Create separate age groupings (Feldman lists different prices for children age 5 and under and ages 6-10) so that when your clients book a cut your staff is properly prepared. But keep in mind: though cutting children's hair requires less time, it does involve extra stimulus to keep tykes—especially the wee ones—occupied and less fussy. "We make sure to offer educational and entertaining materials for kids to look at [during the service], and offer healthy snacks," Feldman says, adding, "Of course, we also have a lollipop drawer that's low to the ground so that children can select their favorite flavor!"
[Images: Courtesy of Mommy's Retreat; Brian Martinez]