With locations in New York City, Los Angeles and Toronto, Wella Studios is dedicated to providing transformational learning experiences in world-class destinations. Led by industry-recognized signature studio artists, seminars to elevate your craft are offered year-round in color, cut, styling, business, and nails. Custom programs and individual trainings are also available to meet a variety of customer needs. "We cultivate our professional community by building confidence and mastery through the exploration and practice of our craft," says Sandra Arthur, director of North America studios and operations. "Growth and success are achieved as professionals bring a renewed energy to making their clients' true beauty come alive. We invite all stylists to consult with our team  and design their unique personal learning journeys."
All colorists can join the global community of Wella Professionals top colorists as they elevate the industry! The Master Color Expert Program offers a personal journey to enrich your knowledge and perfect your craft. You'll transform through expert mentoring and hands-on training, and move forward with the confidence to change your life and take your business to new heights.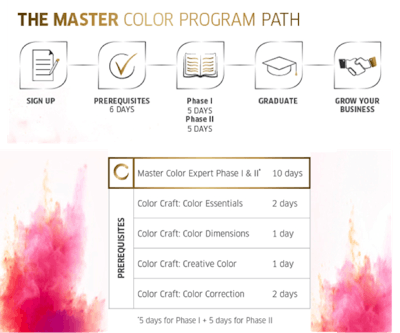 Those who have completed the program say they have been changed for the better. Emily Rorlando said, "The MCE program has given me the opportunity to learn from some of the best in the industry. Their knowledge & compassion have truly impacted my life!"
"After MCE, I increased my service sales 41% in just one year," Jackie Timpone added.
Isse Churcher spoke to the power of community within the program. "One of the best things about the MCE program is that you meet other people that then become your team, really. And you're almost on this journey together."
To learn more and enroll for a Master Color Expert Programa and view the full calendar, visit www.wellaed.com. Stylists can also call 800.422.2336 or email studioreg@cotyinc.com.
[Images and video courtesy of Wella Education]