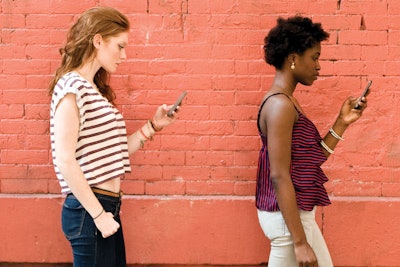 In today's industry, having a strong social presence isn't exactly optional. In fact, one viral Instagram post alone can generate as much business as a year's worth of marketing. But if you're like most of us, knowing what content is likely to resonate with your followers (or better yet, spark new followers) can sometimes feel like a shot in the dark. That's why we've linked up with a handful of social- savvy lash pros to get their top posting dos and don'ts. From creating engagement- worthy content to hashtagging like a boss, here's how to make the most of your next post.
Yes, Your Need to Be Social
First things first: If you want to make it as a lash professional, you need to have a social presence. Instagram, Facebook, YouTube and Snapchat are the most popular platforms in the biz (Instagram in particular for lash and brow looks), but most will agree that omitting social media altogether will likely cost you necessary brand exposure and potential clients. "It's a must with the lash industry being such a visual one. In order to show your potential customers your skills and what sets you apart, you need to show that in a picture," explain Jessi Love, owner of Lash Line Academy and Supplies, which boasts an Instagram following of 25.7k followers. "Social media is quickly becoming one of the most important aspects of digital marketing, which provides incredible benefits that help reach millions of customers worldwide," she says. "If you're not applying this profitable source, you're missing out an incredible marketing opportunity."
Video Is King
Now that you've embraced the digital space, knowing what content to post is the next step. Between still images, before-and-afters, photo galleries and more, there are a lot of ways to showcase your brand. So, what's most effective? When it comes to the lash arena, our team of experts agrees that video tends to fare best. "In essence, video brings together two things that catch our attention like nothing else: movement and noise," says Love.
RELATED: How to Use Social Media Marketing to Target Local Potential Lash Clients
Clear demonstration of skill combined with introduction to a new product also makes for compelling content says Soo-Jin Yang, CEO of Illumino Lashes. In fact, the innovative lash brand, which has 41.1k followers on Instagram, reports that its top-performing Instagram post to date was a video introducing their new smart lashes, the Flash Lash, which generated nearly 5,500 views. "We think the video was so well received because of the fluid execution of isolation, fanning, dipping and placing and the ideal V-shape," Yang shares.
"The video is also an extreme close-up, so viewers get a great sense of the mechanics of the process (down to the millimeter!)."
Keep It Real
Professional photos with beautiful lighting and retouching may work for print, brand websites or portfolios, but authenticity reigns supreme in the world of social media. In other words, skip the Photoshop and fancy filters and opt for a more raw approach to your content. "People want to see a real image of what can be done versus what a filter or editing can do," says Vanessa Max, project coordinator for NovaLash. "A beautiful end result with a hint of difference is something people love to see."
For NovaLash, its most popular Instagram post (805 likes and counting) is a collage of images showing off one artist's lash work without heavy retouching so followers can get a real sense of how the brand's lashes are likely to perform. "What makes the image beautiful and our most liked is the dark, thick lash line shown at different angles," explains Max.
As tempting as it may be, altering your content can cause you to lose credibility with your following. "Do not Photoshop the lashes darker. This will give your customer a false sense of what you do as an artist," warns Love. If you stay true to yourself, your brand and your audience, you're likely to earn a more loyal following.
RELATED: Pros Share Their Essential Lash Photo Apps
It's All About the Product
If you're showcasing a brand directly (or even demonstrating a how-to as an artist), make the product the focus of your content. That means getting up close and personal (think tight video shots or closely cropped photos). "We find that product content always performs best," says Jade Munson, Ardell Beauty global brand ambassador. "Closeup eye images showing our lashes along with gorgeous makeup, as well as up-close product shots, always get the most engagement," she shares. The brand's most popular Instagram post to date was promoting a 12-piece holiday gift set of its iconic Wispies lashes. The seemingly straightforward product post racked up more than 26,000 likes and 969 comments, surpassing its previous engagement record in just the first 12 hours. Why? For most lash lovers, the product is the star. It's that simple.
Know Your Followers
To truly engage with your followers you need to know who they are, what they like and what they hope to gain by following you. Take time to review your followers when they add you and pay close attention to the content that captures their attention most so you can develop a consistency in your posts. "Always keep your content relevant to your audience," advises Munson. "Keep the content original and organic by maintaining a consistent style and voice of your brand."
Insights (the data you accumulate through your account) can help you better understand your audience and curate content accordingly. "I pay very close attention to who is following me and what they have to say. My insights tell me so much about my followers," shares lash artist Ja'Maal Buster (aka "The Eyelash Guru to the Stars"), who currently has 121k Instagram followers. Once you create a business account on Instagram, you're able to access your insights directly from your profile. This data includes the total followers you gained each week, the demographic breakdown of your audience (gender, age group, location), the time of day your followers are most likely to access online content, etc.—all of which is information that you can build from when creating content.
Likes Aren't Everything While it's easy to track engagement through likes, views and comments, these tools don't exactly tell the whole story. Love recommends also paying attention to other forms of engagement, like direct messages (or "DMs") whereby followers reach out to you privately with a message or to make an appointment. "As a single lash artist, if a post goes out and you receive multiple bookings from that post, then it has done very well," she says. And while it may seem obvious, sales can also inform which posts are most popular (even if the number of likes don't match up with profits). "As an e-commerce lash business, if a post goes out featuring a product and your analytics come back stating your sales have gone up vastly, then that post has performed very well," Love says.
DM Smarter, Not Harder
The DM can be a blessing or a burden for many lash artists, depending on how you choose to approach it. While direct access to your followers can be a wonderful tool for increasing your booking rate and engaging with your audience, it can also feel less than professional when it comes to setting appointments or overwhelming to manage if you're getting pinged regularly. The solution? Automate, automate, automate. "To be honest, I have a quick reply or response ready for those DMs ... because I get them all the time," shares Buster. "Basically, it gives a contact number and email to set up an appointment. If it's a question, sometimes I can answer a them. But I can't spend all day chatting."
Consider adding software that allows you to send an automated response for booking requests (like Instazood) and designate a time of day for responding to DM questions. That way, you won't feel in over your head as your following builds.
The Bottom Line
All of the data in the world won't make mastering social media a perfect science. Generating a strong following for your business and your brand will take time (plus a little trial and error). But taking a mindful approach to your content, implementing some strategy techniques and taking note of key learnings can make all the difference in getting your next post the recognition it deserves.
6 Hashtagging Hacks
Get a hashtag crash course from Lash Line co-owners Jessi Love and Cara Kapler.
Users can follow hashtags even without following you, so always use relevant/specific hashtags with every post (examples: #volumelashes, #individuallashes, #lashtraining, #lashaddict).
Don't use irrelevant hashtags that have nothing to do with the post or hashtags that are too popular (examples: #beauty, #lashes, #makeup) and don't use the same hashtags repeatedly.
Add hashtags to previously published posts to increase exposure.
Consider using brand hashtags to tap into a popular brand's following.
Keep your own brand hashtags short and easy to remember.
Experiment with emoji hashtags to capture users' attention.
–by Jillian Gordon
This story first appeared in the January/February issue of Eyelash magazine. To receive the magazine, click here to subscribe.
[Images: Getty Images; Instagram]