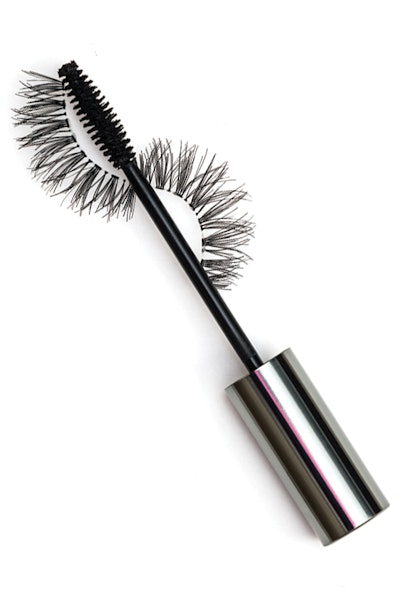 Achieving the ultimate fluttery lashes can be cumbersome, particularly with falsies. When you place the lash band on the top of the natural lashes, you loose a fraction of eyelid space–and even the slightest amount can be too much for some people who want the appearance of bigger eyes. What's an artist to do? John Stapleton, editorial makeup artist and MAC senior artist, often places strip lashes under the lash line. "I'm sure this technique was born way before me by many an adventurous makeup artist, so I'm certainly not taking credit for it. But when I do it, it's always a wow moment with the results." Here, Stapleton shares his technique for applying falsies under the natural lashes—as seen on the model of this month's cover! 
RELATED: Kit Essentials - New Makeup Products for Every Makeup Artist
Who is this style best suited for?
"The best candidate is a client who is not afraid to have brushes and utensils near the eye. Any butter fly-flutter, unsteady types would make it a challenge."
Is there a certain type of lash that's better for this technique?
"I find that working in clusters is easier to handle, so any lash style can work; just chop it up into manageable pieces and go to town."
RELATED: In My Kit - Makeup Artist Danessa Myricks
Walk us through the steps of adhering strip lashes under the lash line.
"After applying mascara and curling well, I like to apply a tiny bit of Duo adhesive to the natural lashes—on the underside. Next, I apply a thin amount of adhesive to the upper part of the false lash. (Normally, you'd apply the adhesive to the underside of the false lash for it to sit on the lash line.) Once the adhesive becomes tacky, I have the client look down. I apply pressure to the eyelid to help ip the lashes back, and then place the false piece against the natural lash, and the adhesives bond. Once it's tacked into place, squeeze the natural lashes and false lash together. Continue with the next piece."
Any troubleshooting tips?
"If the band is showing, apply a bit of mascara with a small fan brush to disguise it. If the lash feels loose, apply a tiny bit of adhesive along the top side of the natural lashes and then squeeze it together again with the false lashes to lock it in place. To remove, just roll the lash off the natural lashes. This technique does take some practice—if you've ever gotten lash adhesive in your eye, you know it's not a great feeling. I recommend trying it on yourself a few times first before working on a client.
This story first appeared in the January/February issue of Eyelash magazine. To receive the magazine, click here to subscribe.
[Images: Getty Images]