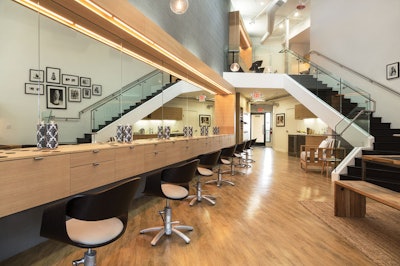 We all want a refresh when the New Year rolls over—and your salon might need one, too. But if you have cold feet due to budget constraints, don't fret: You don't need deep pockets to make over your salon. The first step: "Think small, not big," advises Belvedere-Maletti vice president of sales and business development Eric Lewine.
The Storefront
"Your storefront is the first and last thing customers see," stresses Lewine. It doesn't take much effort or cash to boost drive-by appeal. A fresh coat of paint and small landscaping flourishes will spruce up exteriors in no time, he says. For an automatic, inexpensive update, place vinyl signs with your store information on windows—but be sure to use a simple, streamlined, sans serif font for lettering, says Takara Belmont sales associate and designer DaMar Janssen: "It looks clean and fresh."
The Reception Area
Making the space look anew can be as easy—and free—as ridding clutter. "It will be more inviting," says Janssen. Think about resurfacing, repurposing and reupholstering in lieu of replacing and buying brand-new. Laminating or swapping materials on your worn-out, scratched desk "can breathe new life into a structurally sound piece without a full build," explains Takara Belmont interior designer Yaneyra Hilario. The same theory goes for mirrors and chairs. "This can maintain your salon's soul integrity while saving money for other new design elements," says Los Angeles-based Ramos Carreon Salon co- proprietor Philip Carreon.
RELATED: Readers Choice Awards Winners 2018 - New Launch, Haircare, Styling and Extensions
For an instant affordable refresh, switch your paint colors. To get the most bang for your buck, stick to neutral hues with splashes of bold colors. "Neutrals hold up the longest," advises Carreon. "Trendy [colors] move fast so your salon can look outdated in no time."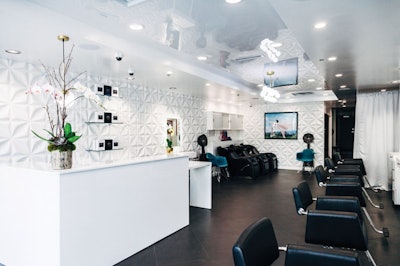 The Stations
Instead of adding, hide. "Most stylists are messy; if there's too much going on stations can look junky," says Carreon. Beverly Hills, California-based The Private Room owner Tina Dizon likes to use simple clear or white storage bins to provide easy access while presenting a tidy front. "They're neat, clean and organized," she says.
The Extras
Save greenbacks by making an eye-catching plant or piece of artwork your focal point. "They're easy to replace, providing for instant change," says Dizon. There's no need to splurge on fancy, expensive art. Instead, use pictures of your team's work or partner with a local artist. "Most artists are happy to loan art in the hopes that guests might purchase it," says Carreon. If you prefer to hang multiple pieces, choose a key wall or two for your gallery. "It's a clever way to inject bright, bold colors without putting them everywhere," says Janssen.
RELATED: How to Bring the Looks from the Golden Globes Red Carpet to Your Salon
The Uniforms
Unify your interior by asking staff to wear colors that vibe with your decor or your logo's palette. "It will keep your space on brand with your business and contrasting colors pull the eye," says Hilario.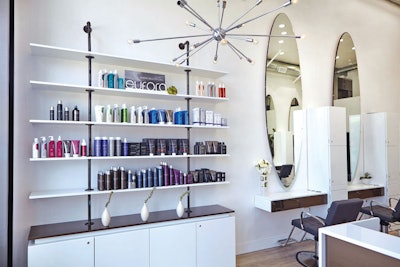 More Pro-Approved Cheap Tweaks
Replace hardware, lamp shades and furniture feet.
Strip and wax floors.
Shuffle your reception area layout or retail inventory setup.
Install new lighting fixtures, bulbs, backlit mirrors, or sconces.
Add LED underlighting to retail displays.
Routinely alternate colorful floral arrangements.
Smart Schooling
The secret to saving money on a redesign: "Never let the salon develop a broken, outdated appearance in the first place," says Eric Lewine. Limit wear and tear by educating your staff on how to maintain the furnishings and stress the importance of treating the salon as if it's their own home. "This should be part of the salon culture from day one of joining the team," he notes.
[Images: Courtesy of Takara Belmont, Ramos Carreon Salon and The Private Room]