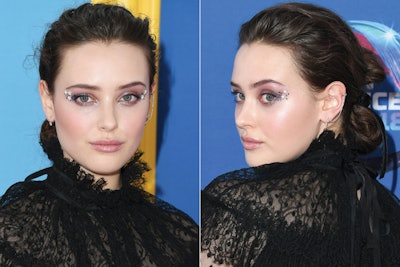 From Katherine Langford's playful twists to Maria Menounos' peekaboo plaits, the red carpet is full of dazzling updos.
Style recreated by Ambrosia Carey, Olivia Garden educator.
1) Start by spritzing the roots to the mid-lengths thoroughly with a wet forming spray.
2) Secure hair in a low ponytail.
3) Thread ribbon or desired fabric halfway through the backside of the ponytail. Pro tip: Attach a bobby pin to the end of your fabric and push it through, closed side first, to easily thread through the hair.
4) Divide ponytail in half with a comb. Using your hand as a form, fold the top half over your hand and pin down, leaving the ends out.
5) Repeat the same step for the bottom half, folding downward and pinning up.
PHOTOS: ​Sci-Fi Beehive Hairstyles Inspired by the Atomic Age and the French Revolution
6) Twist or braid ends and mist a generous amount of shaping spray. Before rolling inside, set chignon starting with the top, then the bottom.
7) Finish your look by tying a ribbon into a bow at the center.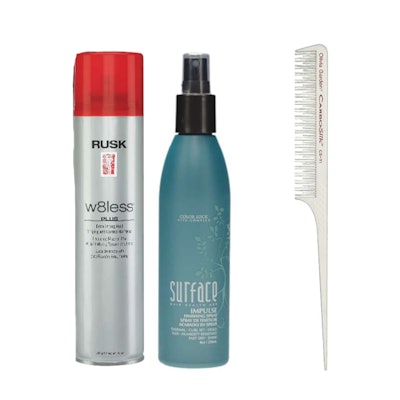 Products
- Rusk w8less Plus Extra Strong Hold Shaping and Control Spray 
- Surface Impulse Finishing Spray
- Olivia Garden CarboSilk CS-T1 Comb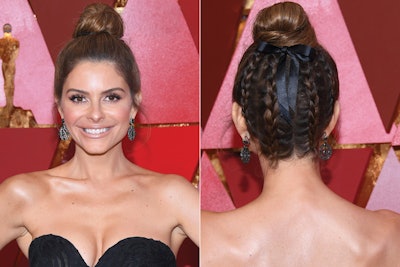 Style recreated by Ingrid Young, Sexy Hair artist.
1) Starting with dry hair, separate front from top of ear to crown and secure front section out of the way.
2) Create four radial sections in the back profile, then Dutch braid all four radial sections starting from the nape working toward the crown.
RELATED: Halloween Makeup Inspired by the Fall 2018 Catwalks
3) Once all four Dutch braids reach the crown, secure with an elastic, making a ponytail. Tuck the remainder of hair into a bun.
4) Mist front profile with a texturizing spray.
5) Lightly brush the front profile into a ponytail next to the bun.
6) Take loose hair from ponytail and wrap loosely around bun and front ponytail.
7)  Secure with bobby pins.
8) Mist hair with a medium hold hairspray.
9) Take a ribbon and wrap it around the base of the bun to form a bow in the back.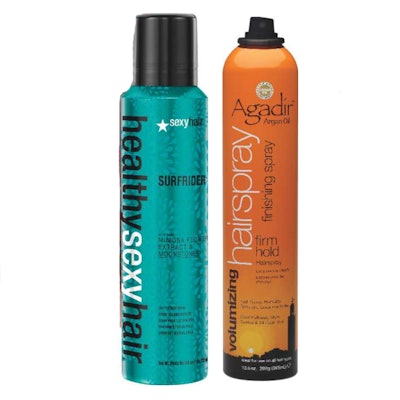 Products
- Healthy Sexy Hair Surfrider Dry Texture Spray
- Agadir Volumizing Hairspray
[Images: Getty Images and manufacturers]