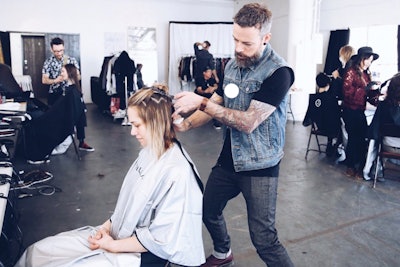 T​oday's plethora of educational opportunities creates a bit of a catch-22: Stylists enjoy more options than ever, but where does one even start? This quandary inspired the Sam Villa team to create Become a Better Hairdresser, a series of online videos that distill need-to-know info into a structured, easy-to-follow program. "Hairdressers were telling us that the amount of online education was overwhelming; Sam Villa alone has more than 400 videos on YouTube," explains Andrew Carruthers, education director. "We wanted to take and curate the content we already have to make a program that pros can follow step by step. We chose what's most applicable right now—the topics that touch most hairdressers on a daily basis."
RELATED: Sam Villa Guest Blog - The Barbering Renaissance
Content centers on the company's specialty subjects (cutting and styling) in four categories: face framing, blow-drying, flat iron techniques and layering techniques. The 32-video collection features practical tips and tricks that viewers can implement immediately, while corresponding blog posts offer extra info for students who want to delve deeper.
Even better, stylists are invited to make their voices heard regarding future development of the series, which launched last July to rave reviews. "We're always evolving based on feedback; we really listen to what users tell us, and that's what guides us," Carruthers asserts. "We may add or trade out videos based on response, and we'll keep creating content that offers essential know-how in bite-size chunks that are focused and easy to digest."
RELATED: 5 Tips to Improve Your Health by Practicing Better Sleep Habits
Extra Credit
When stylists sign up for Become a Better Hairdresser, they'll score access to the program's core 32 videos, plus a few extra treats— targeted bonus content that's most relevant to them. Hence, stylists might receive videos that deconstruct four in-demand braiding techniques, while salon owners can tackle topics like coaching, front desk and retail strategies.
Fast-Tracking Teaching 
Carruthers notes that Sam Villa education—including its new video program—stands out for its salon- friendliness, delivering intel in a way that's easy to absorb, then put straight into practice. "We focus on salon reality and teach so that students can immediately do something with the info," he relates. "Most of the videos are under 10 minutes and focus on techniques as well as problems/ solutions. When stylists have a break in the salon, they can quickly watch a video and be back on the floor with newly acquired knowledge."
[Image: Courtesy of Sam Villa]