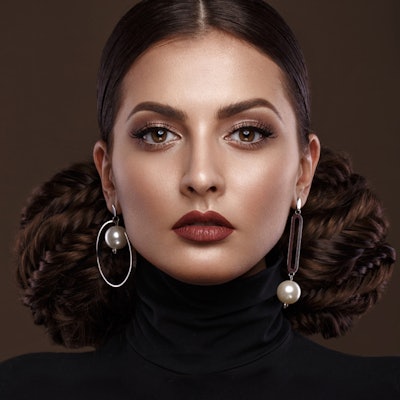 You can apply Classic extensions in your sleep and you've mastered Volume lashes—what's next? It may be time to try your hand at lower lash extensions to add length, color and volume
to the bottom lash line and create a more cohesive look. But fair warning: These extensions come with a few drawbacks, including advanced training, longer service times and possible client discomfort. Here, Lash Affair founder Jenelle Paris provides a rundown on the innovative service.
RELATED: Everything You Need to Know About the Trendy Semipermanent Brow Services
Mastering the Motions: What sets this technique apart from the rest? "You're essentially applying the lashes backward," says Paris. "To make things easier, artists should flip their palettes so that the tips of the extensions are facing them." Paris also stresses the importance of adhesive control. "Using too little adhesive will cause the extensions to pop off, while using too much can leave glue visible along the lash line."
Finding the Right Fit: If your client wears mascara on a daily basis or has naturally light bottom lashes, she's likely a good candidate for lower lash extensions. "Bottom lash extensions allow clients to avoid the dreaded 'raccoon eyes' that come with wearing mascara," explains Paris. One important factor to keep in mind: clients' physical activity levels. "If clients are very active and sweating regularly, you'll need to educate them on the risk of quicker fallout," advises Paris. The good news? As long as your client uses a lash cleanser on a daily basis, her lashes should stay put.
RELATED: 8 Challenges Every Newbie and Veteran Lasher Needs to Tackle
Paying the Price: Unfortunately, lower lash extensions come at a cost: Clients' eyes must be open during the service. Clients may also experience more noticeable gaps. "Since there are less lashes on the lower lash line, the gaps will look bigger as the extensions shed," admits Paris. Initial interlocking can also be an issue, depending on the client's eye shape and sleeping patterns. "If a client's eye turns down on the end, the top lashes may interlink with the bottom lashes if the extensions aren't correctly applied," she says. Service times will also increase. "Lower lash extensions will add at least an extra hour to your appointments," notes Paris. "If clients can't commit to the longer stretch, advise them to get their top lashes done one week, then their bottom lashes done the next week, then every three weeks after that."
[Image: Getty Images]