Whether you have a client ready to walk down the aisle or preparing to dance the night away at prom, one thing is for certain— she always wants to look her best. To help her achieve her ideal 'do, it's important to ask the right questions and take note about the occasion she's attending in order to achieve a knockout head to toe look. "When a client has a special occasion, as a stylist it's important to ask where it is, what it's for, what they are wearing and what image they want to portray to others," says Tracey Giovanelli, Märräkësh educator. "Then you can help figure out an appropriate style for his or her needs and what tools you will need to achieve the look." Giovanelli also notes it's important to recommend ideas based off his or her hair's texture, thickness, face shape and the client's ability to self-style. "Teach them how to work with the style and the proper products they will need to do this," she explains. To help guests achieve the strands of their dreams, we've rounded up inspirational looks from a few of Tinseltown's most stylish celebs that will turn heads no matter the occasion.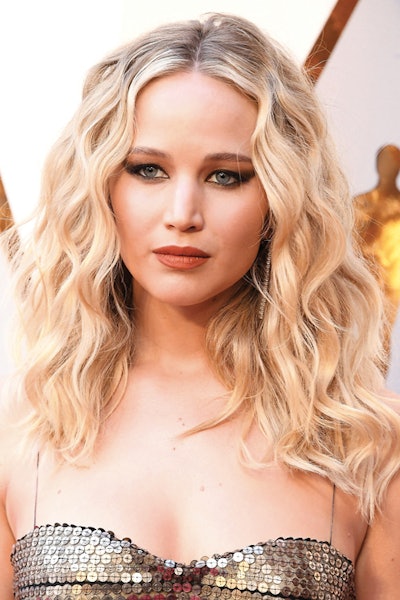 Tousled Texture: Is rocking the perfectly undone look her style? Take a page from Jennifer Lawrence's textured, messy 'do.
Style recreated by Anna Cantu, Farouk Systems Global Artist.
Spray dry shampoo onto the scalp.
Section the hair from ear to ear.
Create a center part down the middle to the top of the crown, making two sections.
Taking square two-inch sections, spritz with texture spray and wrap each strand around a curling iron for 15 seconds. Continue to the entire back section.
On the side section, take the two-inch parts and curl away from the face.
Once completed, apply texture spray to expand and create movement.
For added volume, run fingers through strands.
RELATED: Beauty Pros Share Tips For Giving Clients a Flawless Blowout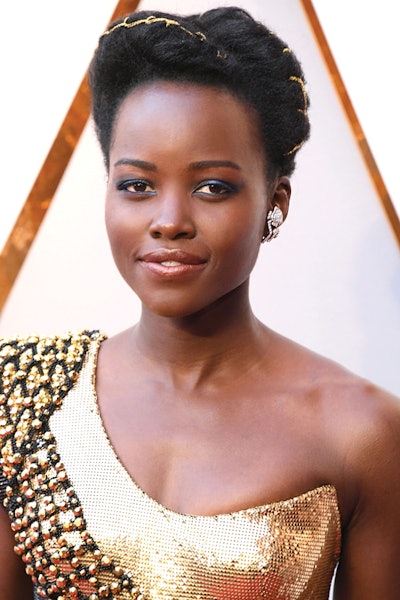 Accessorized Beauty: "It Girl" Lupita Nyong'o's accessorized look will instantly make your client the talk of the party.
Style by Vernon Francois, celebrity stylist. "Lupita's look was inspired by images of Amasunzu hairstyles, which are traditional to Rwandan culture," says Vernon François, who did the actress' hair for the Oscars. "We wanted something clean and sculpted to accent her dress and show off the neckline."
Wash locks with a keratin-infused shampoo and conditioner to help retain moisture.
Prep hair with a nourishing leave-in to soothe and protect strands.
Blow-dry with a round brush.
Smooth ends using a flat iron, leaving roots untouched.
Using your hands, mold hair to create a clean, contoured structure before setting with hairspray.
To complete the look, weave a gold thread through hair using a classic stitch technique for a touch of glamour and shine.
VIDEO: How to Create This Light Rose Gold Hair Color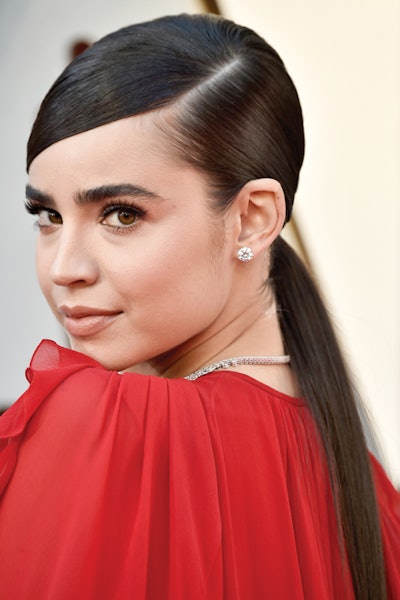 Classic Sleek: Sofia Carson's sleek ponytail is the perfect go-to for the client chasing classic elegance.
Style recreated by Michelle O'Connor, creative director of the Salon by InStyle Inside JCPenney.
Start by determining the best side of the face to place the deep-sided part.
Apply a blowout cream to the scalp area and dry in the direction that the hair will be styled.
Once complete, do the final part. The part should line up with the high point of the client's brow.
Apply a pomade or gel to slick hair using a boar bristle brush. Employ a toothbrush to tame flyaways.
With the head in a slightly forward position, gather hair at the nape of the neck.
Secure strands with an elastic. For a tight ponytail, insert two bobby pins on opposite sides of the elastic and one at the base of the ponytail while wrapping the elastic around the hair. Finish wrapping with a final pin to secure.
Take a piece of hair from the ponytail and wrap around the elastic to elevate the look.
Flat iron the ponytail to lend polish.
Finish with hairspray to keep the style in place.
RELATED: How to Cut a Modern Shag with Andrew Carruthers
Playful Elegance: A loose braid is made sophisticated with sculpted texture.
Style by Michael Silva, celebrity stylist. "Camila's dress had a timeless 1950s elegance to it, so we knew we wanted to do something entirely different with her hair," says Michael Silva, who did the actress' hair for the Academy Awards. "Camila is a bohemian girl at heart, so it made perfect sense to go in that direction. The resulting look is cool and fresh."
Dampen hair and apply styling cream from mid-shafts to tips.
Apply a generous amount of oil from roots to tips.
Spray a leave-in to moisturize and smooth ends.
Lightly blow-dry strands using a diffuser to restore natural texture.
Spray a heat protectant and use a flat iron to eliminate any unwanted curl.
Loosely braid hair, allowing natural texture to shine.
Use a pomade to create face- framing separation.
Finish with hairspray.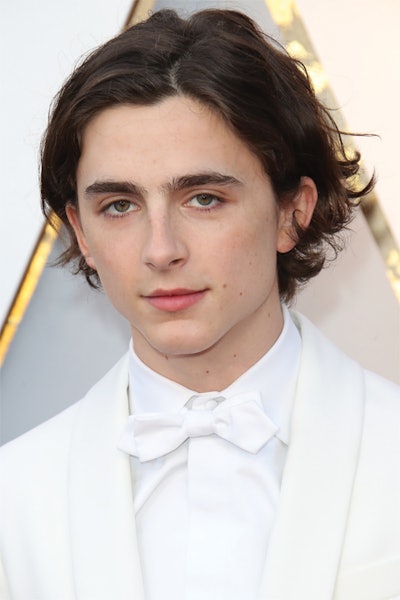 Perfectly Undone: Break out his inner heartthrob by opting for Timothée Chalamet's wavy 'do.
Style recreated by celebrity stylist Sean James. 
Use a diffuser and blow-dry hair.
Add a small amount of mousse to create texture while drying.
Attach a diffuser to the end of your blowdryer to direct airflow and aim at hair. Scrunch hair in your palm with the added heat—this will help create waves.
Run a small amount of shine product through hair.
Arrange hair toward the client's most flattering side, tucking the longest strand of hair behind the ear and flattening it out. You can flatten out the front section by straightening with a blowdryer. Stretch out the section and apply heat to the hair. Sweep over to the most flattering side and tuck behind the ear.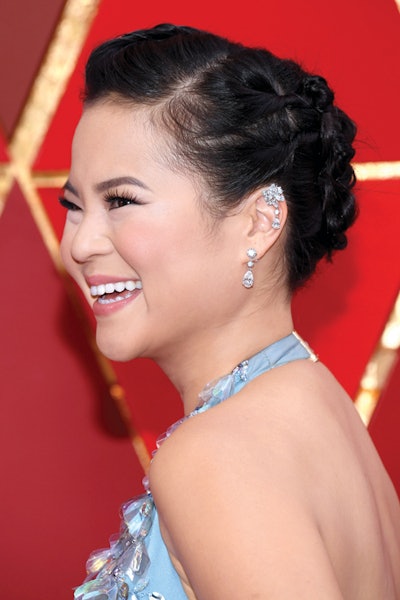 Classic Beauty: Perfect for dancing the night away, this timeless look is a blend of grace and style.
Style recreated by Maggie Arnold, Neuma Education Associate. "To create a smooth, shiny twist, apply a pomade to your hands and rub it in like hand lotion—this will give you optimal control," says Maggie Arnold.
Prep hair by applying a quarter- size amount of smoothing cream on dry hair to mid-shafts and ends, then to the root area.
Determine where to part, then section the hair on either side from the apex to just behind the ear.
Starting in the back center, take one-inch square sections and twist with high tension. Pinch the end of your section and move your hand toward the scalp so that the twist folds on itself. Place one-inch bobby pins in the opposite direction of the hair to hold in place.
Repeat this technique, taking sections starting in the center and working your way out toward the sides.
Once the back is complete, take rectangular sections on the sides and twist toward the back. To avoid bubbling, make sure to twist and move the hair in the direction you want it to go. Twist toward the back and pin again, placing the bobby pin in the opposite direction toward the base of the twist.
[Images: Getty Images]