Embolden not only clients' brows and confidence, but also your own arch abilities with these top brow pointers.
While other brow trends have gone the way of the dodo (where art thou, bleached brow?), the bold, bushy brow has endured—and it shows no sign of letting up. Why? Think of thick arches as an instant youth elixir: "Bold brows give a younger appearance to the face because they bring attention to the eyes—rather than under or around the eyes (where there might be wrinkles and crow's-feet)—and they lend a dynamic look to facial features," says Elke Von Freudenberg, creator of Elke brow collection and owner of Elke Von Freudenberg Salon in New York.
Hence the reason you see a glut of gorgeous arches on the runways and in magazines where selling the bloom of youth is a top objective, says Zoey Van Jones, owner of Zoey Van Jones Brow Studio in Pasadena, California, and creator of her namesake brow brand. "Just as smooth, fresh skin is a sign of youth, so too is a full brow," she says, adding, "It's been scientifically proven that we perceive youth through a thicker brow!" And if science concludes that a thick arch can visually shave off years, why not be sure to beef up not only clients' brows, but also your knowledge, skills and services for this bigger-is-better trend? Here, 12 big brow ideas that will help you do just that.
1) Grooming Required: Many potential clients and newbie brow artists might misconstrue a full brow for one that doesn't need maintenance. Nothing could be further from the truth, according to Von Freudenberg. Avoiding regular groom sessions "simply turns a fuller, healthier-looking brow into a complicated mess," she argues. What consumers might not understand about bold brow achievement is that "a less-is-more concept still includes cut and color manipulation," says Sebastian Latiolais, owner of Brows by Sebastian in New York. Regular maintenance, however, depends on the individual, and Van Jones suggests touch-ups every three to four weeks for fast-growing brows, and four to five weeks for slower-growing arches.
2) Practice Restraint: However, once that client is in your chair resist the urge to over-tweeze, says Malynda "Boom Boom" Vigliotti, owner of Boom Boom Brow Bar in New York. "Let's face it, brows are tricky and it's easy—even for pros—to take o too much," she admits. For any gaps or thinness, celebrity brow shaper Kelley Baker, creator of Kelley Baker Brows and owner of her eponymous Venice, California-based studio, suggests turning to brow powders or defining pencils to mask problems, and teaching your clients how to wield these tools for daily upkeep. Von Freudenberg stresses that clients need to use a light touch; "because the individual hairs are what makes this a trend, they should avoid heavy-handed brow makeup of any kind. Keep the hairs looking like hair, and have them focus on thickening the brow with a fiber-based brow gel," she says, adding that clients need to be mindful that the tint—no matter if gel, powder or pencil—clings to the hair rather than the skin. "If any tint sits on the skin, it tends to make the brow look outdated," Von Freudenberg says.
3) Sharing Your Wisdom: Speaking of passing your knowledge on to clients: Don't be stingy with your intel—even if that means this info allows clients to stretch time between appointments. "If a client of mine can't come in often, I'll show her how to lightly trim the tops of her brows and how to touch up any stray hairs she may have," says Baker. She even encourages a little bit of tweezing between visits—but only to maintain shape right after the appointment. "I recommend she starts her own personal tweezing process sooner than later, meaning if she sees brow hairs growing in the next few days, it's best to tweeze them right away so she doesn't lose her shape." Her reasoning: The client will likely be tempted by tweezers anyway, and if she waits too long, the client may confuse which hairs to tweeze, creating troublesome holes in her arches.
RELATED: 5 Key Questions Every Lash Tech Should Ask a New Client
4) Shaping From Miles Away: Have a client who travels often and simply can't visit you regularly? Vigliotti takes guidance a step further: She shows the client how to pencil and powder her brows exactly how she wants them so she can recreate the desired shape for another, closer esthetician to shape/wax/tweeze around the pencil and powder for quick cleanups. "When you think about it, it's a brilliant idea, whether a client is doing her own brows or guiding a professional on the shape she wants," opines Vigliotti.
5) Minify Growing Pains: What if a client is in need of some major brow rehab? If growth is the goal, Von Freudenberg urges clients to take a hands-o approach for at least the first three professional visits. "When it gets messy to the point it drives them nuts, I tell them to come in for a light cleanup. A light cleanup helps the growth process as it tends to keep clients from trying to clean them up on their own and creating problems," she says. Also, retail clients brow conditioners that strengthen and nourish existing hairs, and put clients on a "growth" calendar (with prebooked appointments!) that allows them to set realistic goals while helping ease impatience.
6) Appreciating Crazy Viral Brows: Those silly "braided" or "squiggle" brows? Though people got extra inventive with their brow artistry on Instagram, these viral "art projects" didn't truly inspire trends, per se, but they did draw attention to arches as an art form. "These trends ... help people to realize that brows are as much a part of a person's overall beauty look as their eyes, lips and hair are," reasons Baker. If anything, that attention only benefits professionals because it starts a conversation. "As ridiculous as they are, the designs show creativity and bring focus back to all brows," says Latiolais. "From there, it becomes our job to scale these ideas back and say what will make a person look younger and more defined." Certainly, 2018 will see a new crop of brow makeovers ("fishtail" brows, anyone?)—it's just a question of how far Instagram's most daring will push their artistry.
7) Battling Bad Brows: While Instagram has been a bastion of brow artistry, many things—good and bad—have emerged from it. Feeds featuring exaggerated, overdrawn brows with boxed-o edges have ushered in the misuse of at-home brow stamps and stencils. "ey're too harsh and heavy. A perfectly made-up brow can look great in a photo, but in real life, it takes way too long to recreate with too many products," Von Freudenberg says. Though Baker isn't quick to discount stencils' usefulness for a client's daily guidance to good shaping ("Stencils don't create one-size-fits-all eyebrows as long as the client [is] using the right stencil for her face shape"), she does agree that "brows look best when they're natural and feathered-looking; you never want them to look stenciled!" Your job is to steer boxy-brow- addicted women (should they ever seek your professional wisdom) away from this fake look. "Show them how to do a softer fill-in and remind them that, whatever they do, it should appear like eyebrow hairs," says Van Jones.
RELATED: Stay in the Lashing Business by Making Smart Investments and Sound Decisions
8) Getting Social: As absurd as those squiggle brows were, there's no denying that the platform they were born on—Instagram—benefits brow artists. "I'm on Instagram constantly seeing what looks people are loving and what's trending," Baker admits—and if she's thumbing through feeds, you best believe your next client is too. What nets success? Van Jones suggests posting every day to maximize your reach to potential clients, though two to three times per week suffices if you find your schedule too packed. Baker, who's Instagram account boasts more than 624,000 followers, sees success by posting a mix of content: technique videos, well-executed before-and-after shots, and images of her celebrity clients flaunting fab brows at various red carpet events. "And you always need to be engaged with your followers," she stresses.
9) Personalizing Most-Requested Arches: Which A-lister will your client be pointing to for brow inspiration in 2018? At Baker's studio, clients seeking drama look to actress Zendaya's sharp arches while those who desire a more natural appearance ask for a variation on actress Shay Mitchell's brows. Von Freudenberg hears a lot of requests for model Taylor Hill's full brows, while Van Jones says her clients forego celebrity-specific brow shapes and simply ask for "the best brows they can have"—a fair request, to be sure! Latiolais acknowledges red carpet brows can help facilitate a brow consultation, but the onus is on you to personalize the look—not duplicate it. "I explain to clients that we can achieve that same effect of the 'celebrity brow' on them, but that it'll be uniquely shaped to enhance their facial features," he says.
10) Tackling Top Brow Concerns: Too skinny, too sparse, too fair: e complaints about one's brows are plentiful. But Baker is hearing a different kind of concern. "People are afraid that they're stuck with the eyebrows that they were born with. is is simply not the case," she says. A brow artist's goal, Baker stresses, is to make each and every person's brows look their absolute best—whether by grooming to enhance the natural shape, filling them and/or perfecting the arch. "I tell clients, 'You can always have beautiful brows that make you look and feel your best!'" she exclaims. Growth is another top concern, and explaining why patience is needed during regrowth can be a tough conversation. When clients become antsy because arches aren't filling out naturally at the one-month mark, Von Freudenberg walks them through the myriad situations (damage from bad waxing or threading, for instance) for why this happens and stresses patience. "I think it's harder to grow in bad brows than a bad haircut. But the clients who are patient and can wait always see results," she says.
11) Overhauling Your Brow Menu: Because bold brows continue to be big for 2018, your menu should include services that cater to this movement. Von Freudenberg's suggestion: Add a "Brow Rehab" service that focuses on brow growth. "It should include brow shaping, a [conditioning] treatment during the service as well as a similar conditioning product to take home, and a brow tint if needed," she says. "[A service like this] helps the client stay on track and she'll see quicker improvements to her brows." Also, hype brow tinting, but be sure to focus on customization. "Brow tinting is no longer one-size-fits-all. Customize it to your clients' needs for a much better result," says Von Freudenberg. You may even want to consider including microblading, which Latiolais says is a "good investment for clients because it has regular but manageable maintenance." Whatever your menu includes, just know that your clients are more informed about brows than ever—so the more services you offer, the more intrigued they'll be. And don't forget retail. "Clients have more awareness of the benefits of filling in the brows with quality brow products as part of their daily beauty routine," says Van Jones.
12) The Tools To Go Large and in Charge: These tools get our pros' stamp of approval.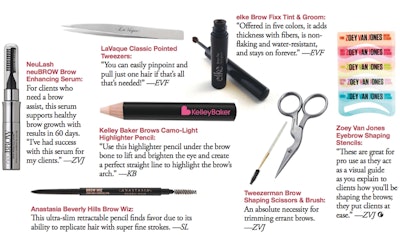 [Images: top Getty Images, bottom courtesy of manufacturers]